CHHATTISGARH - JASHPUR DISTRICT
Resistance - Overview Photo Series and Articles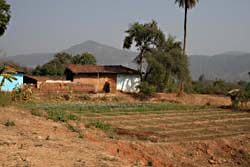 Prosperous villages in danger.

Prosperous Villages Don't Want Big Projects. Ageet Panna is the hero of Beltoli village. The government wants to construct a big dam here for electricity production and sent some land surveyors. But the villagers don't like the plans. Panna chased the land surveyors away. Read more

More photos
_______________________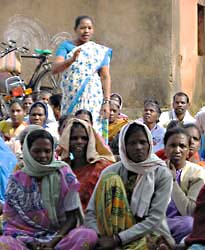 Villagers told about actions they had done themselves already.


Preparing Resistance - Village Meeting Adivasis. January 2010 three hundred women and man from dozens of villages came together in a meeting in Musgutri, a village in the Jashpur district of the Centre-Indian state Chhattisgarh. They discussed the mining projects and the displacements it brings. Villagers told the meeting how they successfully opposed the construction of a power line for a Jindal factory. Read more
_______________________
Big Adivasi Demonstration Against Land Grab. April 9, 2010, there was a big demonstration in the Manora Block. There were more that ten thousand tribal villagers from the region. It was a very disciplined gathering in full democratic spirit. In the afternoon they marched for more than two kilometers together in a line shouting slogans against the corporate land grab, Jindals, TATAs and the land mafia planning to do mining and large dam constructions in their region. They gave a memorandum to the regional Tahsil (sub district) officer. Read more
_______________________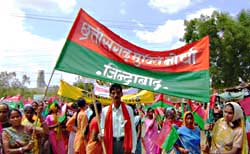 On the banner: 'Chhattisgarh Liberation Front'.


Commemoration Adivasi Fighters for an Autonomous Tribal State. Read more
_______________________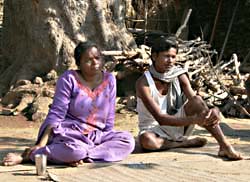 Social worker (left) at a village.
Social Workers Inform Villagers about Big Projects. More photos
_______________________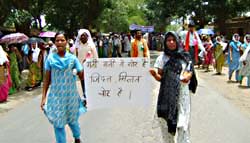 On the board: 'There is a rumor going round in all the lanes that Jindal and Mittal are thieves'
100.000 Adivasis Demonstrate against Land Grab at Kunkuri at June 2009. More photos