CAMPAIGNS of HIMCON
Uttarakhand South-West
article: For Example Himcon - The Powerful Combination
overview: articles and photo series about Himcon
Supporting Kimsar - Reverse Migration
Kimsar, Rajaji National Park near Rishikesh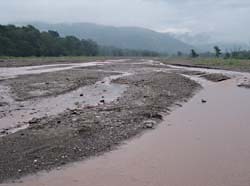 Villagers claim a proper road. Now they are isolated in the monsoon.
"We need a proper road", explains Sohan Singh Negi, headman of the village Kimsar, in the Rajaji National Park in the neighbourhood of Rishikesh. "For example, when a women has to deliver, we need to reach the hospital in the city. But in the monsoon period we cannot cross the river. The road we have is so bad, no ambulance will come to our village." The Public Works Deartment wanted to construct a good road and even had money for it, but the Forest Department objected and went to the Supreme Court. The judges stopped the improvement of the road because it is a National Park here. Now the villagers will go to the Supreme Court to claim their road. "A simple, but good road, with a simple bridge. Then we will be connected to the city." This will be the first step to reverse the migration. Growing cash crops to get more income will be another step. And perhaps the construction of a cultural center to make village life more interesting for the youth. Read more Photos about the bad road
_______________________
Do-it-yourself
Reclaim Your Village Forest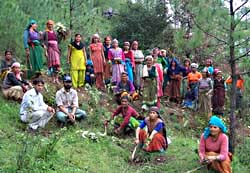 Farmers ready to plant saplings at the village forest the Forest Department snatched away.
"It will only cost you 100 till 200 Rupees (1, 50 till 3 euro) and two visits to the district office to get back the lost parts of your village forest." Rakesh Bahuguna from the small development organisation Himcon in the North-India state Uttarakhand is enthusiastic. "We got back 6 hectares from the Forest Department, and we claim another 7 hectare. On the first part the villagers already planted oak trees." Read more + photos
_______________________
Forest Fires
Let the People Protect the Forests!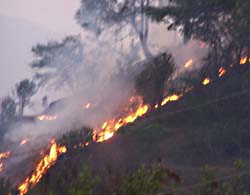 14 people died in forest fires in the North-Indian state Uttarakhand in April and May 2009. 4000 hectares burnt down, in those two months only. The Forest Department blames the villagers who don't take care when they burn their fields after the harvest. But the villagers know the officials do it themselves. Because it is forbidden to cut and sell green trees. After the fire, the trees are considered 'dead' and contractors can start felling. When they first have bribed the officials, off course.
Forest Department is not able to protect their forests against forest fires, but also not against illegal felling and poaching. It will be better when villagers protect the forests themselves. Read more + photos
Go to next page:
article about how to stop migration of young people to the cities.