CONSTRUCTIVE WORK
Overview Uttarakhand South-West
Article about development and campaign organisation Himcon
Planting Trees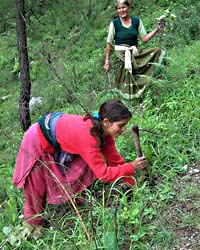 Planting saplings.
Deforestation is the biggest problem in rural India today. Because agriculture is completely dependent on a good forests in the neighbourhood. When the forests are cut, the rivers, streams and springs will dry up in the summer time.
The best thing to help agriculture and improve village life in general is to plant many new trees and protect the the old trees against the timber mafia. That is what many villages already do. Read more More photos

_______________________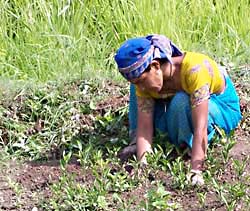 Farmer working in plant nursery.
Plant Nurseries
More photos about plant nurseries.
_______________________

Safe Drinking Water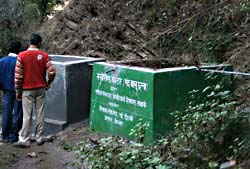 The Slow Sand Filter: cheap, local construction, little maintenance
One of the biggest problems for the villagers in the Himalayas is safe drinking water. So the Himcon people were very happy when they found out that the University of Nagpur had a perfect solution: the Slow Sand Filter. In every village a semi skilled mason can build a unit with local materials and some cement. You only need some pipes to bring the water from a spring to the filter and from the filter to a tank. And that's it. Read more
_______________________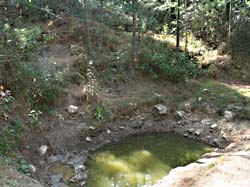 Villagers dig ponds to collect rain water in the monsoon.

Percolation Ponds
More photos about the construction of ponds and check dams.
_______________________

School
More photos about the school for poor children.
_______________________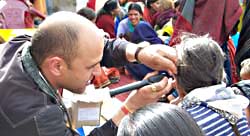 Health Camp
More photos about a health camp for poor families.
_______________________
Go to the next page: article about afforestation
See also: Himalayan Waters - problems and solutions (documentary, 14 minutes)