UTTARAKHAND CENTER
OVERVIEW RESISTANCE
Article about the development and campaign organisation HPSS
Village Women Stopped Power Project
The people of Pala village stopped the construction of a hydropower tunnel twice. The local women's group put Raksha Sutra (holy threads) on the trees the contractor wanted to cut for a road. Later on they chased the workers away when they started felling in the night. Read more
_______________________
Women Farmers Occupied Bulldozers
to Stop Dam Construction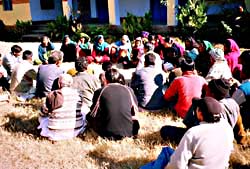 In the end of November, 2005 dozens women farmers from the village Phalinda, near Theri, stopped the construction of a dam by occupying the bulldozers. The government sent about 200 police officers, beat the villagers, arrested 29 villagers and put them in jail. Read more
_______________________
Dikoli Village - after 30 Years Still Fighting for a Job
The people of Dikoli village know how to fight. Already 30 years they are struggling for a job. They had rallies, they were in jail, but still they go on. The government has to keep its promises: a job for every family. Read more or go to the pictures
_______________________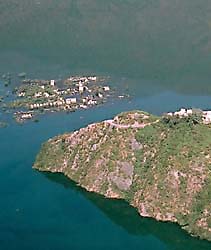 The historical Theri town is drowned in the artificial lake. There was a beautiful and fertile valley here.
Risky Theri Dam
The Tehri Dam in Uttarakhand in the river Ganga is one of the tallest in the world. The project has displaced 100.000 people. There were a lot of protests. From many sides. Article and pictures
_______________________
Raksha Sutra – Protecting the Forest by Holy Threads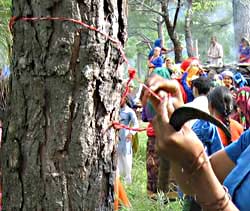 By knotting a holy thread at the tree, it becomes like a brother for the women.
Village women protect their forest against the illegal felling by the timber mafia and the Forest Department. They tie a thread on the tree, like they do it on the wrist of a brother. It is called 'Raksha Sutra'. More photos
_______________________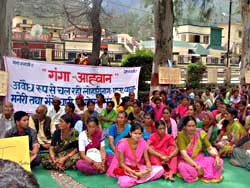 More Photos
About Resistance
Photos
_______________________
'Save the Rivers' Campaign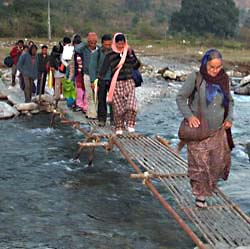 Walking from village to village to inform the people.
The Times of India: "As part of the "Save The Rivers Year"campaign, "padyatras" (long marches) are being organized in 12 river valleys to promote mass contact. Public meetings and discussion with local communities will also be held."
Activist Ravi Chopra in The Indian Express: "Many rivers including the revered Ganga are facing threat as 220 big, medium and small dams would be built throughout the state in the coming years. Not only rivers and their ecosystems but the lives, livelihoods and culture of hundreds of villages are doomed." Read more
Newspaper clippings part two Photos
_______________________
Alternative Conference Global Warming
Ministers of Himalayan States came together to discuss global warming issues in Shimla, end of Obctober 2009. Activists had their alternative meeting. "Cement industries, hydro power projects that are re-routing the rivers through tunnels, dams and steel units are responsible for disturbing the local ecology, climate and also cause a rise in local temperature," said an environment activist. Read more

Alternative Declaration: "The mountain people have traditionally lived a low energy, low consumption, and low waste life styles. It is very important to learn from these, and emulate this in a larger scale in view of the necessity of reducing the global emission of green house gasses." Read more