Village Women Stopped Power Project
With the help of Raksha Sutra movement and some high profile city activists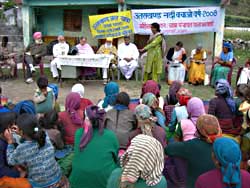 Village meeting in Pala.
The people of Pala village stopped the construction of a hydropower tunnel twice. July-August, 2007 in the monsoon period, about 200 smaller and bigger land sinkings appeared. These were caused by a test tunnel for the Pala-Maneri Hydro Power Project. The blasting of this tunnel made already cracks in many houses. It also destroyed the village spring.
The local women's group put Raksha Sutra (holy threads) on the trees the contractor wanted to cut for a road. When workers still started to cut the trees in the night, the women together with some men went to the forest. They chased the hundred workers away. Later on the villagers held several demonstrations. The government stopped the work end 2008, temporary.
Women activists of the Raksha Sutra movement went from village to village to inform the people. When the project was started again, several high profile activists with good contacts in Delhi held a hunger strike for several days half 2009. Then the Prime Minister stopped the project for a review. When we were in Pala end of 2009 there was still not any activity.
Pala is a village in the Uttarkashi district of Uttarakhand, at the Bahgirath River. It is on the end of a 13 km long tunnel coming from Loharinag. A 600 Mega Watt (MW) power station is under construction. There will also be build a dam. From this dam the river water will go to the power station at Maneri by another 13 km tunnel. This tunnel is not yet build, only a test tunnel, which caused so many problems already.
About 80 families live in Pala. They grow potatoes, amaranth (a traditional grain with beautiful red flowers) and other crops to sell at the market. With that money they buy rice and wheat. They have a lot of cattle. The power company UJVNL acquired about 7 hectares of the village forest. The company paid 4 million rupees (60.000 euros) to the Forest Department for it. They want to cut all the trees. In this forest the people collect fire wood and fodder for their animals.
Overview articles and photos about resistance in Uttrakhand Center
Go to next page:
Women farmers occupy bulldozers