RAJASTHAN - OVERVIEW
Green Paradise
Combination of constructive work and campaigning
For Example Upkar Sansthan
In the village Kyara in the Alwar District in the north of Rajasthan a green paradise is growing. You will find there citrus, amla, papaya, jackfruit and other fruit trees. Also vegetables like tomatoes, ornamental flowers like marigold and oilseeds like arandi. Everything is growing here. After 10 years the whole place will be completely green. At that time nobody will be able to imagine this was a very dry, desert like place before. Read more
_______________________
'We are Living Here for Generations'
Forest Dwellers in Sariska Tiger Reserve Will not Leave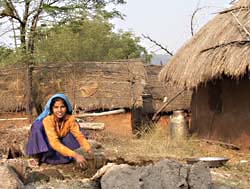 Farmer working with cow dung.
In the north of the West Indian state Rajasthan we find the Kankwari fort. It is on the top of a hill. It looks like a fairytale castle with big towers and solid walls. At the foot of the hill flows a friendly small river to a small lake with date palm trees and a village. The cows and buffalos just came back from the forest and are milked now. Some goats are grazing next to the farms. Yes, it looks so idyllic. But at the same time a serious struggle is going on. Read more
_______________________

No Licence to Kill
Animals Miscellaneous
"In our community when a person even only kills a peacock it is forbidden for him to enter the house of his family. First he has to go to the holy river Ganga and take a bath. He has to show a letter from a priest that he got forgiveness for his sins. Only then he will get permission to enter his family house." Read more
_______________________

Nomads Looking for a New Future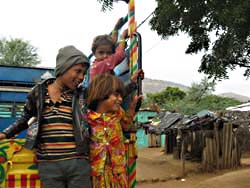 Lohar children in their new village.



Photo series about Lohar tribe.
Go to next page: Green Paradise