Do-it-yourself
Reclaim Your Village Forest !
Uttarakhand South-West
Overview photo series and articles about campaigns in Uttarakhand South-West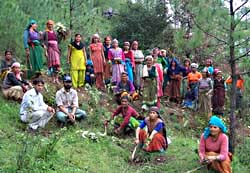 Farmers ready to plant saplings at the village forest the Forest Department snatched away.
"It will only cost you 100 till 200 Rupees (1, 50 till 3 euro) and two visits to the district office to get back the lost parts of your village forest." Rakesh Bahuguna from the small development organisation Himcon in the North-India state Uttarakhand is enthusiastic. "We got back 6 hectares from the Forest Department, and we claim another 7 hectare. On the first part the villagers already planted oak trees." The Forest Department officers were angry and objected the planting, but they couldn't do anything because Himcon got the old maps, which showed the original boundaries of the village forest clearly.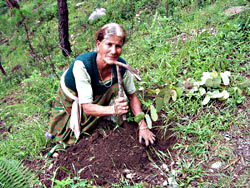 Planting a good fodder tree.
"According to the Right to Information Act (RTI) you can go to the district office and ask for the maps of your village", Rakesh explains. For his own village Sabli, near Rishikesh in the Himalayas, he got three old maps. One of the village itself, one of the village forest and one of the forest what is under control of the Forest Department. The maps confirmed what Himcon already heard from old villagers, that the original village forest was much bigger. When young people migrated to the towns about three decades ago, the Forest Department encroached the village forest, cut and sold the trees and planted pines for the turpentine.
Himcon discussed the whole matter with the sarpanch (village leader). Later on the Gram Panchayat (village council) decided to plant there oak trees, because these are the most important original trees in this area, which give good fodder leaves and good humus for a nice soil moisture for a long time.
When they were planting the saplings some Forest Department officers went there, asking: "What are you doing on our land?" The sarpanch told them: "This is oúr land. When you don't think so, bring the maps and we will find out later. We go on with planting. It is my responsibility. When it appears to be illegal, you can put me in jail." Afterwards there was a meeting with people of the Forest Department, the Gram Panchayat and Himcon and together they studied the maps.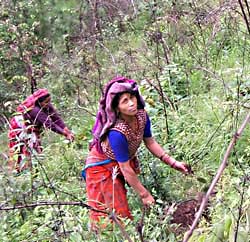 The villagers will plant grasses for fodder for their cattle and dig a pond to collect rain water in the monsoon. Slowly the water will sink in the earth and improve the soil moisture of the fields in the neighbourhood. They also placed some sticks as marking points, to make it clear for everyone how big the village forest is. They decided to reclaim another part of 7 hectare in the future.
Go to the next page: article and pictures about forest fires
Go to: Overview photo series and articles about campaigns in Uttarakhand South-West


Revised: March 2015 - Interview at November 2009 - Photos: Himcon, Uttarakhand -
Creative Commons