Prosperous Villages Don't Want Big Projects
Chhattisgarh, Jashpur District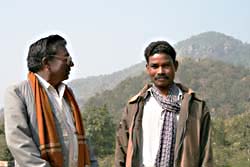 The right one is Ageet Panna, hero of Beltoli village. He chased away the land surveyors.
Ageet Panna is the hero of Beltoli village, at Jashpur District in the Centre-Indian state Chhattisgarh. He chased the land surveyors away. The government wants to construct a big dam here for electricity production. But the villagers are afraid the huge Indian company Jindal wants to start bauxite mining and perhaps also aluminum production. That needs a lot of water and electricity. The plans for the dam made the villagers suspicious. More photos

The sarpanch (village head) of Beltoli and of the villages in the neighbourhood all said 'no' to the government plans. The villages here are very prosperous because of the good irrigation. Several decades ago the government built a small dam to collect the monsoon water. Since that time there is enough water to grow two crops a year. The villages discuss the sharing of the water seriously every year and the whole region is flourishing.


Go to next page: photo series about resistance against this big dam
Go to overview articles and photo series about resistance in Jashpur district