'There Is Less Oppression'
Khaddi village - South-West Uttarakhand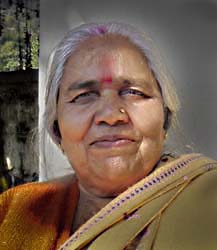 Dulari Devi, Gandhian activist at Khaddi village.
"Much has changed the last fifty years. In early days the women would not sit on the mat, when there was a village meeting. Now they have their position everywhere. This has changed the whole scenario. There is less oppression." Dulari Devi from the Himalayan village Khaddi is quite positive. Early seventies she was active in the Chipko movement here, together with her husband Pratap Shikhar. They helped the villagers to organise themselves against the destruction of the forest by contractors who cut big trees and made lime quarries.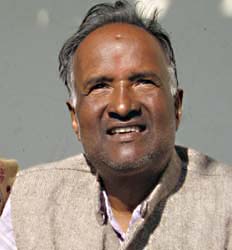 Late Pratap Shikhar, Gandhian activist in Khaddi.
Pratap: "People are much more aware about their rights. There are more schools and children even have the possibility to study. The connection with the towns is also better. There is a good road, there are buses and many jeeps."
The biggest problem of today is that youngsters are leaving the villages. Pratap: "That is because of their education. Youngsters don't want to work on the farm any longer. How can this exodus be stopped?" Dulari: "In a village not far from here all sort of facilities are there, like a bank, because some government officials were living there. Later on other people came back and started with agriculture again." At other places migrants from Nepal lease fertile fields at the river banks and start growing tomatoes and other vegetables for the towns.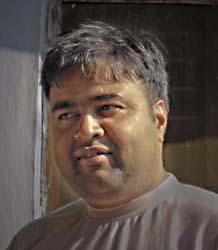 Ranjan, son of Dulari Devi and Pratap Shikhar; Gandhian activist in Khaddi.
Go to next page:
Article dalits well organised
Go to
overview articles and photo series Uttarakhand SW2, Khaddi