'Don't Touch the Khaddi People'
Khaddi village - South-West Uttarakhand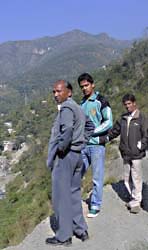 Phool Dass, dalit village headman, together with two village social activists, visiting a landslide area.
What can you do against bribes government official always force villagers to pay? In Khaddi, a village in the Himalayas they found an answer. When officials didn't want to give the villagers the full payment for their work, women occupied the office, locked up the officials and phoned up higher level officials and journalists.
It all started in 2009 when Phool Dass became village headman of Tipli, one of the four villages of the Khaddi municipality. Dass was already 20 years secretary of the organisation for poor villagers UJJS (Uttarakhand Jan Jagriti Sansthan = Uttarakhand Organisation for Awakening of the People). He himself is a dalit (lowest class in the Hindu society). He is a stitcher and a street theater activist. He got a lot of help of some Gandhian activists in Khaddi and did many trainings. The UJJS organised women groups in the villages and started a balwadi (child care center); it also supported a village school and a women cooperative for growing, storing, processing and marketing ginger.
UJJS helped farmers to protect their land, for example by supporting a sit down action of village women against bulldozers, which were constructing a road, damaging their farm land.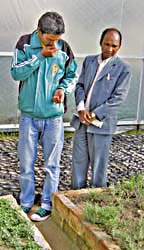 Village activists visiting a farmer in a nearby village, growing medical herbs.
When Phool Dass became village headman in the end, he could check the bookkeeping himself. When he asked the full amount of the money for the work the villagers had done, the officials asked him to 'give us our part'. As most of the villagers Dass is against any kickbacks; so he refused. The officials decided not to pay anything. Then several truckloads of village women came to the office and occupied it. It was quite successful. High level officials came soon, scolded the village officials in public and ordered them to pay. Several local officials were transferred.
Dass: "It was all in the newspapers. Everyone went to know about it. The high level officials know the village and me by name now. They work all properly today. They know: 'don't touch the Khaddi people'."
Dass: "Last two years we had projects for 20 lakh Rs (2 million rupees = 33 million euro) without any penny spoiled. It was for constructing water canals for irrigation, bunds to protect against land slides, water ponds to collect rainwater and small village roads. It were all programs of the central government. When you have clear opinions, people will go with you and a lot can be done."
UJJS is not only organising actions. Once there was an accident with a bus. Many people died, because there were no doctors available. Village people had to rescue the children and force jeeps to bring people to the hospital. Later on the villagers had a meeting with a minister. The UJJS decided to build a disaster center. It could do so, because it has already a lot of contacts. Dass: "We try to create an atmosphere in the villages to help each other."
Go to next page:
Overview photo series Long March (padyatra) along Hinval river
Go to
activity report
Go to
overview articles and photo series Uttarakhand SW2, Khaddi