Mother Earth - a New Future for Small Farmers
Documentary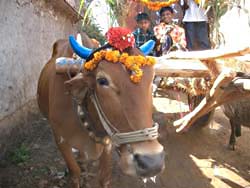 Every year there is a festival to celebrate the richness of the tradional seeds.
Documentary about poor women farmers in the South of India who turned their back to modern agriculture in order to bring new life to their traditional ways of farming. With a lot of success!
Woman farmer Sammamma Begari from Bidakanne: "After fighting for 20 years with our own 'Sangham' (society), we managed to persuade the government to give us some land." An important reason for the government to give small pieces of land to the poor was the ongoing struggle in Andhra Pradesh from the People's War Group, a Maoist guerilla from poor farmers.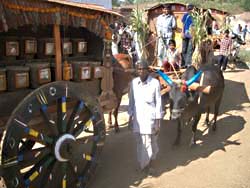 A parade of bullock carts travells from village to village.
The small fields were were very bad quality. Ngo the Deccan Development Society (DDS) helped the poor farmers to make them productive.
Begari: "The government wanted to give us money for five wells so we could grow cash crops. But we said: No. If we had agreed to their proposal we would have lost our traditional crops forever. Then we would only have had cash crops. We said: We don't want your wells or your money nor your cash crops either. We have our own crops. They're fine for us and our children. We don't want to lose them again. Why must we first earn money then buy food with that money? No way. We all just grow our own food. And we're happy with that."
In 2004-2005 the government of Andhra Pradesh attacked the guerilla movement heavily and killed 1800 members of them and other poor villagers. The DDS didn't react on it. It is not concentrating on political issues.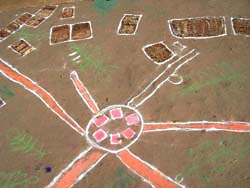 Village map to discuss agriculure issues.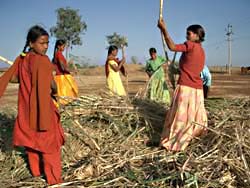 School children processing biological sugar cane with a special taste.
Go to: Mother Earth – a new future for small farmers (documentary, 30 minutes)
Go to: Interview P.V. Satheesh (director of the DDS, 30 minutes)
Go to: Moeder Aarde – een nieuwe toekomst voor kleine boeren (Dutch, documentaire, 30 minuten)

You can view the documentaries by streaming, or first download the complete movie. It will take 120, 140 or 280 MB.


Go to next page:
Himalayan Waters - problems and solutions; a documentary
Go to:
overview issues
or to
overview reports