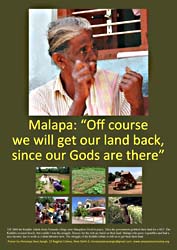 Poster
Sign the petition to save the land of the peasants!


MALAPA GOWDA - HERO 2011


Download the poster - A4 (0.7 MB)

Download poster - A3 (1.2 MB)

"Off Course We Will Get Our Land Back"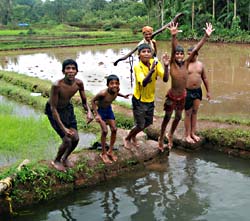 The village life was beautiful.
October 2008 the world of the Kudubis from Padavu near Mangalore, Karnataka, collapsed. With the help of police and goons the government dumped hundreds of truckloads mud on their fields. The Kudubi Adivasis together with local activists and city people resisted fiercely, but lost their land. 15 acres of beautiful irrigated paddy fields and vegetable gardens were destroyed. The government took the land forcefully to rehabilitate villagers from a special economic zone (SEZ) nearby. It was the first step of the enlargement of this SEZ.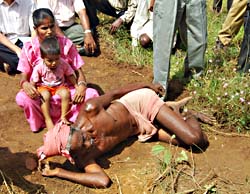 Malapa blocks the road.
Now, more ten three years later, the enlargement of the SEZ is stopped by years of protest of villagers, environmentalists, students, artists and religious leaders. But the Kudubis didn't get back their land. "It is not possible", says the government.
The Kudubis who grew their own paddy, had their cows, bullocks and buffaloes and earned good money by their vegetables, have become poor now. They have to work as farm labourers for big farmers or to accept all sort of coolie work they can get.
Still they are not defeated. Out of 15 families, ten didn't accept any compensation money or other farm land. They still reclaim their own fields, even when the new houses have to be demolished and the mud removed. As Malapa Gowda, a Kudubi elder, says: "Did they ever ask us permission to build their houses on our fields? What would you think of me, when I built a house on your land, without asking."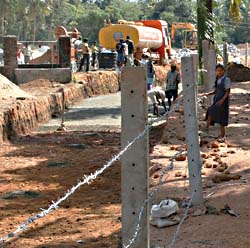 The Kudubis cannot even reach their own well any longer.
The Kudubis are sure they will get back their land one day. It is beyond any doubt that it is their land. Long time ago their ancestors settled here. They worked very hard to shape the fields, to make them fertile and to construct an effective irrigation system. Illegally their lands were snatched away from them with forged documents. It is even against the constitution to touch Adivasi territory.

The Kudubis have a age long, personal, emotional, indeed religious bond with this land. Gowda expresses the feelings of the community when he says: "Off course we will get our land back, since our Gods are there."
Go to next page:
photo series farmers' paradise
Go to
overview articles and photo series Mangalore
Updated: February 2017 - Visit: January 2013 - Photos: Krishi Bhoomi Samrakshana Samiti and Peasant Autonomy -
Creative Commons