Farmers' Paradise
near Mangalore, Karnataka
Before the bulldozers came it was a really farmers' paradise here. Green hills with a lot of water the whole year. Two or three paddy (rice) crops in a year. Many fruit trees.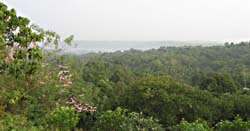 The green hills give a nice climate and a lot of water the whole year. You can find many different herbs in it.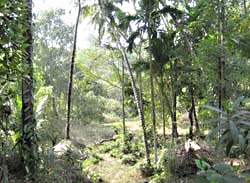 Vanilla grows at the trunks of the trees.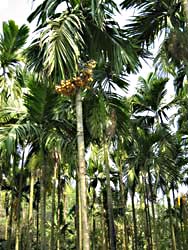 Bettelnut palm trees. Look at the orange fruits in the top. Many people in India like to chew bettelnuts. Farmers get a good price for it.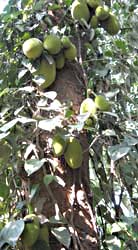 Jack fruit: very tasty!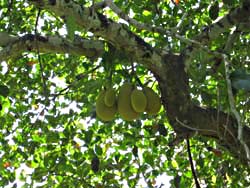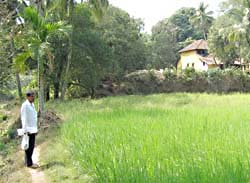 Farmer Gregory Patrao for the paddy field of his family. In the background their family farm, three hundred years old. Gregory a nd his family decided to stay when already all their neighbours had left their lands. In the end at April 2010 a drag line destroyed their farm, with the help of a lot of police officers.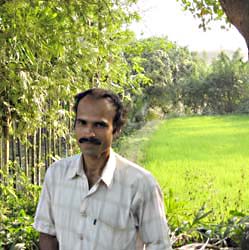 The brother of Gregory, who supports the struggle.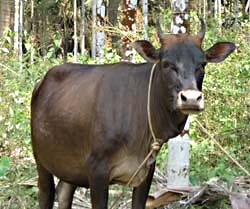 Every family here had a cow for their own milk and butter and some cow dung as a natural fertiliser.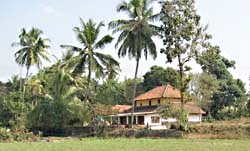 Rich farms were here.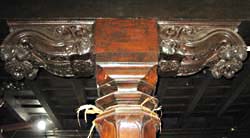 Traditional centuries old wood carving.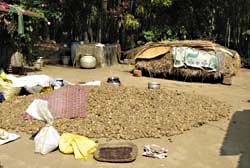 Drying the bettelnuts.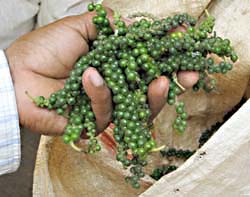 Fresh pepper.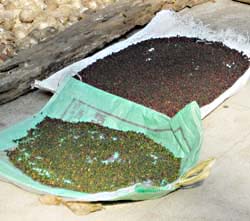 Dried pepper.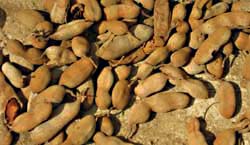 Tamarind fruits, sour-sweet.
Go to next page:
photo series village life
Go to
overview articles and photo series Mangalore