Black Day
photos police violence against Adivasis
Tamnar, Raigarh district, Chhattisgarh
article about police violence in Tamnar

At January 5, 2008, there was a public hearing at Tamnar village in tribal area about the construction of another iron factory.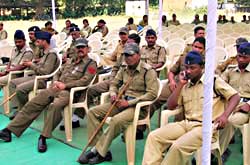 The police was well prepared.
Activists of Raigarh city had a lot of questions and remarks.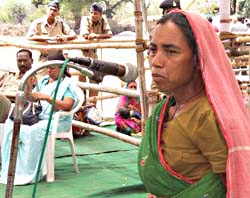 Villagers were very clear: We Don't Want Another Iron Factory Here! There are already so many factories here; the air, the water and the land are already so polluted. It is enough!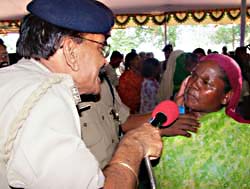 The police decided who could speak and for how long. That made the villagers angry.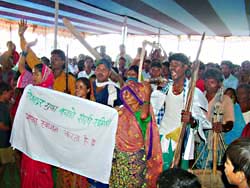 Another factory on our land is not acceptable. [ Manoj vragen wat op het spandoek staat]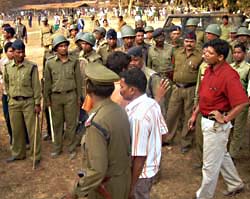 At the end of the meeting the police beat the villagers …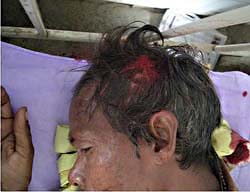 … brutally.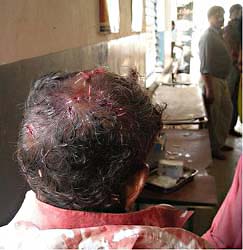 Several villagers had to be brought to the hospital.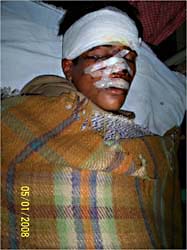 Some of them were severely wounded.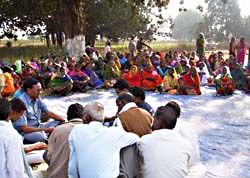 The Adivasis blocked the road, to protest.
Go to next page: photo series about yearly commemoration of the police violence
Go to: article about police violence in Tamnar
Go to overview photo series and articles resistance

Photos: Jan Chetana, Raigarh - Adivasi Mahila Mahasangh, Jashpur and Peasant Autonomy -
Creative Commons