Water Forums in the Villages
Water Harvesting, Nurseries and Safe Drinking Water

at Sabli, near Rishikesh, Uttarakhand - activities of
Himcon
For photos see:
=
ponds and check dams
=
investigation springs
=
filters for clean drinking water
.
Water forums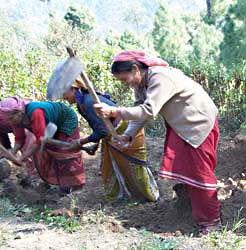 Farmers digging a pond to collect rainwater.
(..) "The initiatives on water and sanitation issues under taken by Himcon, a partner organization of Himalaya Seva Sangh in the Ranichauri and Sabli villages of Tehri Garhwal District has influenced six other neighboring villages of Chamba Block namely Haswan Gaon, Kemsain, Chopriyal Gaon, Chopriyali, Bidkot and Swadi. The villagers came forward to form Water Forums with the support of Himcon and have taken steps for construction and desilting of water harvesting structures. Major population of these villages is participating in the regular monthly meetings that are being organized on specific dates in each village where our activists are also present to initiate and plan future programs. The water forums in these villages have also prepared nurseries and planted saplings and seeds of local variety of water conserving species like Banj, Bhimal, Sinsiyara, Guriyal, Siwali, Guchi Ghas, Bans, Ginni, Brom, Dolini and Rai."

Ponds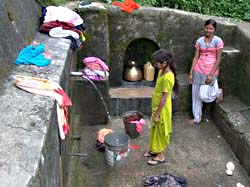 A specialist visited the villages to investigate the water quality of the springs.
(..) "In the Chamba block of Tehri Garhwal district 15 Chaals (small ponds or water harvesting structures) have been constructed by villagers of Hansvan Gaon, Kemsain, Choprial Gaon, and Bidkot with the guidance and support of Himcon under this program."
(..) "A work camp and Campaign march was also organized by Himcon under this program in the Sabli and Chopriali villages where women and youth groups of neighboring villages were also invited to participate in the construction and revival of Chaals or small ponds."

Slow Sand Filter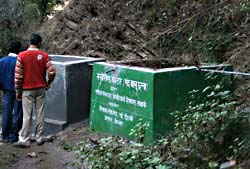 A filter in a village to make the spring water safe to drink.
(..) "All the four Slow Sand Filters for providing safe drinking water planned under this project have been constructed by HSS with the help of Himcon team in the Chamba block of Tehri Garhwal. Apart from the existing one constructed under this program, one more Slow Sand Filter has been constructed in village Chopariali, to provide clean and safe drinking water to all the clusters of this village. Village Chopariali is located very close to the National Highway; and these structures will also be used as models to demonstrate a natural technique for providing safe drinking water.
Himalaya Seva Sangh along with Himcon organized a public meeting at Village Chopriali along with a press meet on the 23rd of September 2008 to popularize this technique. Many nearby villagers and representatives from voluntary organizations attended this meeting. Mr. Vishvanath from Arghyam also participated in the program while inaugurating the Slow Sand Filter. Local newspapers and media flashed it and the villagers and Himcon have started getting visitors and inquiries to know more about it.
The fourth Water filter is constructed in village Kemsain of Chamba block and will provide safe and clean drinking water to a cluster of seventeen households of the village. Participation of the village community in the construction and maintenance of these structures is very encouraging and the villagers after understanding this simple water purification technique explain it to the nearby villagers and visitors who are showing interest in adopting the same in their respective areas."
This are fragments from the report Efforts of Himalaya Seva Sangh (HSS) On Water Issues in the Mountains; Himalaya Seva Sangh; New Delhi, February 2009. Whole report
Go to overview informative articles.
Go to next article article: overview articles and photo series about campaigns of Himcon.