Making the Forest Act Alive
Visit November, December 2011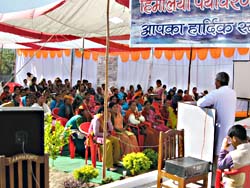 "The new Forest Act is still a dead letter."
About two hundred women from twelve villages came two days together in Matli (near Uttarkashi, Uttarakhand) end November 2011 to get informed about the new Forest Act. Also local and high level officials were there. People got a lot of practical information from different activists and specialized trainers. They received even a ready made claim form with all the needed explanation.

The Forest Act is the result of decades of struggle of adivasi and other people who live in or near the forests. The law gives them back their traditional rights to collect fodder leaves, grasses, fire wood, herbs, fruits and a bit of timber for their own use.
The act is from 2006, but still a dead letter. Villagers themselves with their organizations have to make it alive by a lot of day-to-day struggle.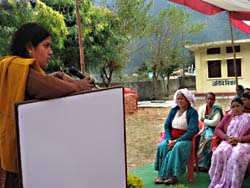 Village head woman: "We have so many problems with the Forest Department."
The interaction between villagers, activists, specialists and officials was really useful. A local panchayat headwoman told about their problems with the Forest Department. An official of this department could react immediately. A forest law specialist could even take away some misunderstandings from the adjunct District Magistrate. The high level official had to admit that traveling in his car to this meeting was the first time he read this act, which he is supposed to implement. He invited activists to come to his office to inform him more.

After singing the last songs about their forests and the river Ganga and a tasty common meal the village women went home, well decided to claim their traditional rights, which officials will have to respect. If they like it or not. The daily harassment has to become history.


Go to:
Overview articles and photos Uttrakhand Center
Go to next page:
Woman farmer, fighting 5 years against dam