Dalit Activist in the Tauns Valley
Visit December 2011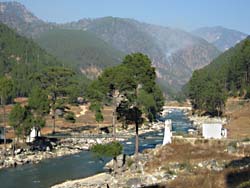 Tauns river. The Satluj Vani company started a six dams and tunnels project here. Many villagers will be displaced.
"Do you see these little green points there in the field? These are pines planted last year by the Forest Department." Anil Besari is angry. "Until last year villagers grew paddy here. For generations! But now the Forest Department took their lands. By force. They just kicked them out without any compensation, nothing. They told them: 'It is not your land, it is forest land."

Anil is from a peasant family from Khalari village. His family has only a small piece of land; they are almost landless farm laborers. Together with his wife Rakhi and activists from other villages they have a street theater group. They go to villages to sing and dance. They have traditional local songs, but also make new songs themselves about actual issues. After singing they have discussions with the villagers.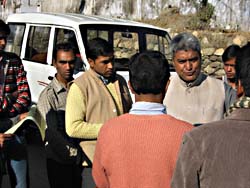 Sureshbhai from HPSS Uttarkashi (grey hair) and Anil (yellow sweater) inform villagers living in the 'Gowinder Pashu Vihar National Park', just near the six dams-tunnels project.
Anil and the other activists have a dalit background. They are part of an Uttarakhand network struggling against discrimination of lower cast people. For dalits it is very difficult to get any government job in the village. The village elite don't want to allow it.
Land rights issues are a hot item. Lower cast people are easily thrown out of their land. Anil: "We go from village to village to inform the people about the new Forest Act." According to this law villagers have the right to go on with their traditional farming in the forests. "They have never heard about this act."

In this region the Satluj Vani company starts constructing six dams and tunnels at the Tauns river. The first test tunnel is already made. The blasts caused cracks in houses of a nearby village.
In the near future many villagers will be displaced by the six dams project. HPSS, a Gandhian campaign and development organization from Uttarkashi, organizes local meetings together with activists like Anil. Villagers have to know what is going on and to discuss how to react.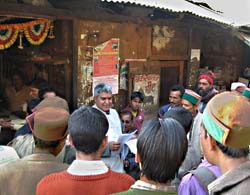 Informing the villagers about their rights in the new Forest Act.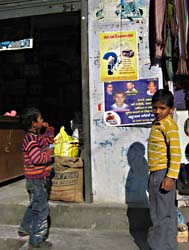 Yellow posters in the towns about the dangers of the six dams-tunnels project.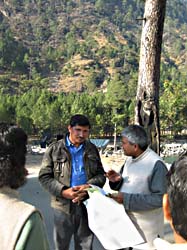 Discussion with Forest Department officer. According to his Department there are "zero forest dwellers", only illegal encroachers.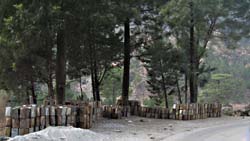 Selling terpentine from the pines brings the Forest Departmet a lot of money.
Living in the Forest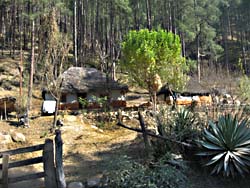 Many Gujar communities with their cattle live in the forest for generations.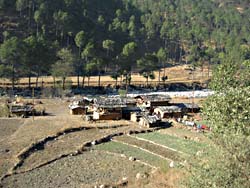 A Gujar hamlet ...
... and another one.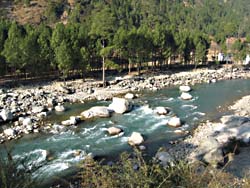 River Tauns.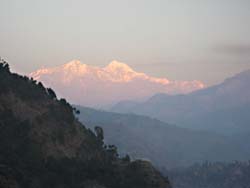 Himalayas.



Go to: Overview articles and photos Uttrakhand Center
Go to next page: Overview articles and photos resistance in Uttrakhand Center