New Forest Grown Up
Khaddi village - South-West Uttarakhand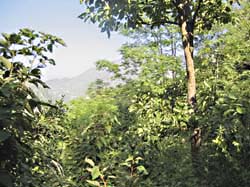 Dense forest ...
When Dulari Devi and Pratap Shikhar settled in Khaddi early eighties, the local government gave them a piece of one acre (0.4 hectare) mountain on long term lease. There had been a lime quarry and all the forest was cut. There were only bad shrubs. Especially the mother of Pratap worked hard. Enthusiastically she planted all sort of fruit, timber and fodder trees and different grasses and bamboo.
Now, 25 years later, there is a beautiful forest with all sort of medical herbs.
Nepalese gardener Bal Bahadur takes care of the forest. This migrant worker is a real specialist. When he sees a green shoot he knows exactly which tree will grow out of it.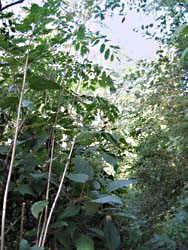 ... with many shrubs.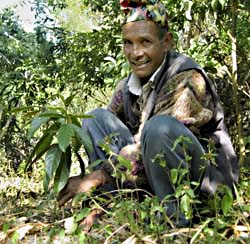 Bal Bahadur, a migrant worker from Nepal, with a guava sapling.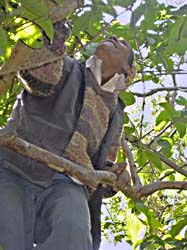 Bahadur, picking a guava fruit.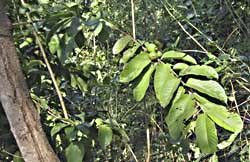 Tree with small fruits.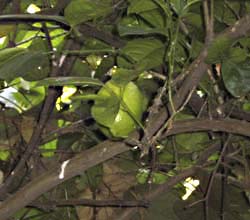 Lemon.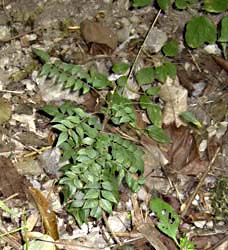 Kalipatta, a medical herb and spice.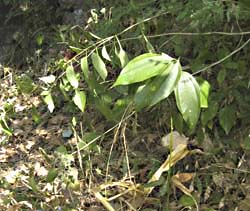 Spice.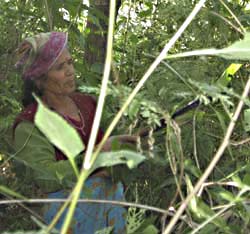 Some villagers are allowed to take fodder leaves for free.
Go to next page:
Photo series: beauty of this area
Go to
overview articles and photo series Uttarakhand SW2, Khaddi