Yekkaru a Green Village Under Threat
near Mangalore, Karnataka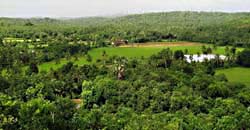 A green village, but at the horizon the refinery is there.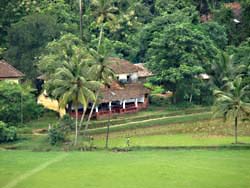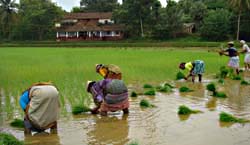 Time to plant out the paddy (rice).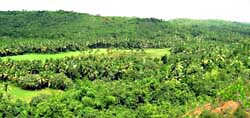 A lot of coconut trees.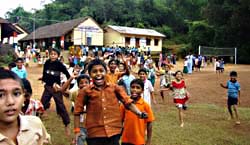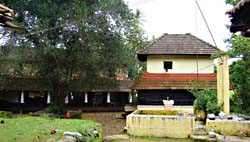 The temple.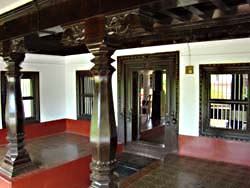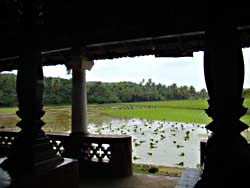 View from the temple.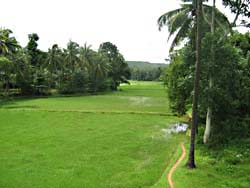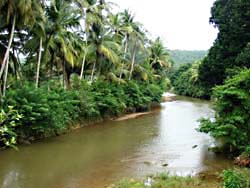 This land is fertile, because there is so much water. The whole year. There are three crops a year.
From the national newspaper The Hindu
People of Yekkaru say 'no' to SEZ
"YEKKARU THENKA, July 29, 2007. About 3000 agricultural families in this village have delivered their final verdict on giving away their agricultural lands for the Mangalore Special Economic Zone. In a special 'grama sabha' (village meeting) convened by the Deputy Commissioner of Dakshina Kannada district, M. Maheshwara Rao, their representatives have said that none of them would give their lands for SEZ.

(..) Grama panchayat president Sudhip Amin said that the Panchayat, in its extraordinary meeting, held on July 20, had resolved that they would not give permission to any construction activities related to the MSEZ nor to convert or acquire lands belonging to their village, particularly the agricultural land.

One of the land owners, Hemalatha, said with the acquisition of over 4000 acres (2.5 acre = ha) of land in the rich agricultural taluk (block, part of a district), the local food grain production would come down drastically and thousands of tonnes of fruits and vegetables would be lost for not just the people of the village but to the city of Mangalore. This would put the food security of over 5 lakh (half a million) people in jeopardy. Denying that there was unemployment in Dakshina Kannada district she said the villagers had not sought employment in SEZ but were happy with their agriculture and business.

Taluk panchayat member Suresh Shetty said the Government was not justified in taking away the farmlands and making them work as employees of a company of which they did not know anything. He said every farmer was self-sufficient and produced food for others.
* * *
From the state newspaper Deccan Herald
'Residents not ready to sacrifice land'
July 22, 2007. "Gram Panchayat (village council) member Suresh Shetty draws attention to the fact that (..) thousands of people living here, of which over 120 families are landless labourers. 'If their land is taken away they will be left nowhere,' he said and added: 'Though the officials have been talking of a well paid job, we know where we stand. We are literate but not educated. These proposed industries are all high tech automated industries which will be handled by highly educated techies. Lured by these empty promises, if we leave our land we will find ourselves as attenders or cleaners in these industries.'

On the other hand, 88 year-old Subbaiah Shetty fears that if their lands are acquired, the ancestral customs and religious rituals will come to end.

(..) It is a do or die situation for the people of Thenka Yekkar who are fighting a mighty battle. (..) While Thenka Yekkar is predominantly an agricultural area, the MSEZ authorities want the world to believe that it is a dry land (without irrigation) which is not fit for cultivation. A local resident Srinivas Yekkar says that it is a clever conspiracy to trap the locals in a vicious circle. (..) The SEZ Act specifically states that only ' dry vacant land' can be acquired for the project but irrespective of this the acquisition officer has been blatantly tagging cultivable land as dry land facilitating easy acquisition.

Mr. Srinivas Yekkar says that the MSEZ records say that only 23 per cent of the land area in this region is cultivable land, while the truth is that the region has sustained excellent farming for generations together. Apart from the three crops a year, the entire region is rich in flora and fauna. Herbs of medical importance such as beetal leaves, Volledakodi, Gajjigesoppu, Astisrankala, garga and others are found here. He says that the city of Mangalore will face a huge price hike if Yekkar is acquired for the SEZ as a huge quantity of fresh vegetables and about 2000 litres of milk is supplied to Mangalore per day from Thenka Yekkar."
* * *
From a newspaper (sorry no date available)
MSEZ - Yes: Government, No: Villagers
We'll sacrifice lives, not land
"(..) 'I have developed this barren land for the last 30 odd years and I have cashew, coconut, arecanut and banana plantation besides pepper. Is it possible for the authorities to give me a similar land with fruit bearing trees?' questions Mr Sundar from Yekkar. 'We will sacrifice our life, but not land,' he quips.

(..) 'SEZs are duty free territories where no labour laws are applicable', says Dr Lalitha Kamath from the Collaborative for the Advancement of the Study of Urbanism through Mixed Media. She was in Mangalore to take part in a meeting to discuss on the impact of SEZs. In SEZs the governments have very less authority and they are almost completely run by private individuals. Huge tax exemptions to the SEZ residents will create additional tax burden on those who pay the taxes, she explained and added that farmers, daily wage labourers and self employed individuals will be the most affected with the promotion of SEZs.

(..) 'The people who lose their land for development may get a compensation, but the natural resources being destroyed in the process, like forest, farm land and rivers are never being valued,' said Dr Kamath.
Go to next page:
overview articles and photo series Odisha
Go to
overview articles and photo series Mangalore