Black Day
Adivasis commemorate police violence
Tamnar, Raigarh district, Chhattisgarh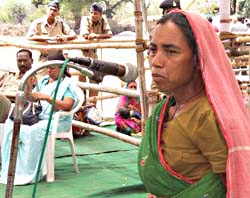 Villagers were very clear: We Don't Want Another Iron Factory Here!
January Fifth is called Black Day in the Raigarh District of the Centre-Indian state Chhattisgarh. At that day in 2008 there was a public hearing of the government at the village Tamnar about the construction of another iron factory. Several hundreds of Adivasis (indigenous people) together with some social and environmental activists went to the hearing to protest. They don't want another factory. There are already so many in this area. The air, the water and the land is already so polluted. The villagers don't want more factories. At the end of the hearing the police did a lathee charge (with long sticks) and beat up the tribals. Several were severely wounded and were brought to the hospital. Probably the lathee charge was well prepared to teach the Adivasis a lesson, to show them who is the boss. more photos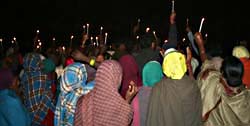 The same evening there was a ritual with candles at the exact place of the beatings. People shouted: 'Tamnar Zindabad, Zindabad!', 'Long live Tamnar'.

One year later, January 5, 2009, several hundred people, most women, from several villages came together at a crossing at Tamnar. They listened the whole day to different speakers, informing them about what was happening in the district. They sung songs and shouted slogans. In the evening they put candles at the place where the cruelty happened; shouting: "Tamnar, Zindabad, Zindabad!" (long live Tamnar). Then there was a village meal. The Adivasis will not give up their struggle.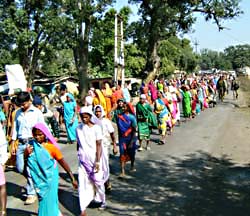 Next year they will gather again.
At January 5, 2010, there were even more protestors from many villages. They demonstrated 4.5 kilometers to the headquarters of the big steel company Jindal and to the District Office from the government. There were 500 police officers to protect the company.

Go to next page: photo series about police violence in Tamnar
Go to: overview photo series and articles resistance

Photos: Jan Chetana, Raigarh - Adivasi Mahila Mahasangh, Jashpur and Peasant Autonomy -
Creative Commons