Farmers hold rally to protest
against land acquisition policy of State Govt
newspaper article, Raipur, Chhattisgarh
Raipur, October 6, 2009. Hundreds and hundreds of farmers from various parts of Chhattisgarh on Tuesday assembled in the Capital City and took out a rally to protest against the displacement and land acquisition policy of the State Government. (Activists informed us there were about 10.000 protesters - PA) more photos

Under the banner of Chhattisgarh Visthapan Virodhi Manch (CVVM, Chhattisgarh Forum Against Displacement, an umbrella organisation of different local struggle groups - PA) the farmers later also took part in the public meeting held at Gandhi Maidan.&Farmers raised their voice against the land acquisition and displacement policy of the State Government, which has affected a large number of people of the State, particularly farmers, tribal and weaker sections. The rally saw a huge participation of farm labourers, farmers, women, students from remote areas and even children.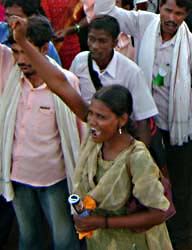 Addressing the meeting, I Lakra of CVVM said that "the State Government in the name of industrialisation and employment generation has virtually turned Chhattisgarh, once called the Rice Bowl of the country, into a hell for farmers and people of weaker sections, who are totally dependent on their agricultural land for their survival."
"With more and more industries coming up in the State, farmers' land is being acquired by the State Government to promote multinational companies, which has severely affected the life of common people", he added.
"In the name of taking Chhattisgarh to new heights of development, the State Government was doling out a raw deal to poor farmers and tribals by unconstitutional means of land acquisition and in turn, the people were forced to breathe black and poisonous smokes coming out of these industries," Lakra charged.
The rally witnessed active participation of women, who were holding placards and raising slogans against the State Government to lodge their protest against its displacement and land acquisition policy.
Source
'Framers hold rally to protest against land acquisition policy of State Govt'; in the Central Indian daily The Hitavada, October 7, 2009.
PA: The farmers came from different parts of the state; for example: there were 1000 protesters from villages, towns and city of the Jashpur district, almost 500 km away. The travel costs alone were 600 rupees per person, what is as much as the wage for 8 days labour.
Go to next page: photo series about rally in Raipur
Go to overview photo series and articles resistance