Story 124
Santhiu-Niaye, West Senegal – 1965
A griot never keeps his mouth shut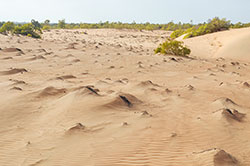 Senegal.
Followed by his wife Gnagna Guissé and the girl Khar Madaigua Diob, griot Déthyè Law leaves the village of Santhiu-Niaye. For the last time he turns around, put his hands to his mouth and sings loudly the call to prayer. The wind carries the sound to the village. Then together they start walking west through the niaye, with its beautiful landscape of undulating dunes, cactuses, thorn shrubs, and lakes covered with water lilies.

Khar carries a newborn baby on her back. She is cast out by her village. She has become pregnant without being married. Ngoné War Thiandum, her mother, was appalled. She had always dreamed of a son-in-law from a family as prominent as her own family and of a splendid wedding-party. Now she could forget it.
"Who was the father?" Ngoné wanted to know, but Khar didn't tell her. By all means Ngoné tried to get the name out of her: with reasonable arguments, concerned, irritated, angry, but Khar kept persisted in holding her tongue.
The village-gossip pointed the finger to Atoumane, a poor peasant who in the wet season worked for the prominent families, when there was a lot of work to do on the land. He swore on the Holy Book that he had done nothing wrong, but the village elders thought that he had to be the culprit, and decided to drive him away from Santhiu.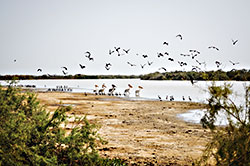 Senegal.
Déthyè had condemned the decision. He was not of a distinguished family; he was only a cobbler, but at the same time also a griot, a poet-singer who keeps the village history alive. A griot has the right to criticize bluntly, and that was what Déthyè did, according to the saying 'a real griot never keeps his mouth shut, when injustice takes place'.

Later on Khar blurted out that she was pregnant by her own father. Her mother, was shocked and furious with her husband. She wanted to talk with him about it, but he refused. He sent her away brusquely.

When the village-gossip then blamed Khar for it, because she could have seduced her father, and the village elders decided to expel her from the village as well, this was the last straw for the griot and his wife. They didn't want to stay any longer in this village of lies and injustice. The next morning they left Santhiu. Together they accompanied Khar with her baby on her journey through the niaye.
_______________________
Source
In White Genesis (1965, part of the book The Money-Order) the Senegalese author Ousmane Sembène describes the downfall of a village.
Go to:
= the next page:
Come back to your own Acoli people - Northern Uganda – 1966
, story 125.
= the
Table of contents
, story 124.