Story 125
Northern Uganda – 1966 (1)
Come back to your own Acoli people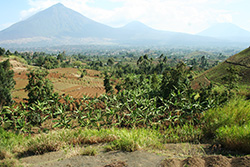 Uganda.
"What happened to Ocol, my husband?" sighed Lawino. He has always been an excellent man, a real 'son of a Chief'. But now he seems to be a witch. He belittles his own ancestors, his parents, and all who is black. Even the lullaby that an Acoli girl sings for her little brother on her back he calls 'noise.'

Ocol finds everything wrong with me. He says I am stupid because I didn't go to a nuns' school and cannot read and write. Because I cannot read the clock and cook at a stove. But I look to the sun to see what time it is and I can cook delightfully at the fireplace.
Ocol thinks that I am superstitious because I am afraid of the kite and use the medicines which I learned about from my mother. Like the roots of the bomo against stomach ache and sprouts of lapena for a sore throat.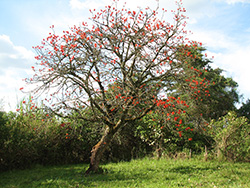 Uganda.
Ocol, why do you scorn me? I am 'the daughter of the Bull!' I am a genuine Acoli, not a slave girl. I was the 'chief of girls' of my age group. How proud you was of me previously. Not so long ago you liked to sit near me, close against me, and I played the bow harp and sang your praise.

Ocol, my husband, my friend, what has happened to you? Is it because you have been in the land of the whites? Because your head is now full of books? Because you fight for a high position in the new 'Democratic Party'?

Dear Ocol, perhaps you don't know, but you have become a beggar, a dog of the white men. Come, let me pour rhino-horn powder in your eyes to remove the crusts, and the pus. Throw away your black glasses and look around you. Come, I will pick the gum out of your ears so that you can hear again. Come back to your own Acoli people, to whom you belong.
_______________________
Source
In Song of Lawino (1966) the Ugandan author Okot p'Bitek presents the bitter complaint of a proud village woman who cannot accept the 'modernization' at all.
Go to:
= part 2:
Progress - Northern Uganda – 1970 (2)
, story 130.
= the next page:
Aunty is a goddess - Gaomi District, Shandong Province, China – 1967 (1)
, story 126.
= the
Table of contents
, story 125.