ABOUT US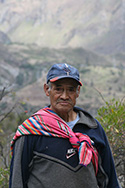 Peru.
A Peasant History – peasant life and struggle in novels and films – worldwide is a project of Peasant Autonomy. It started in 2015 and was ready in 2020. The stories are written by Jan Paul Smit, inspired by the book or movie mentioned in 'Source' at the bottom of every story. They are not quotations or fragments, but Smit's own interpretation in his own words.

Our special thanks go to Marcia Tiede and Margaret Weidner for correcting the English stories. And to Jules Pretty for his encouragement.

About the writer
Jan Paul Smit is a Dutch journalist and writer. He travelled extensively through India and made a documentary about a revival of traditional farming.

About the pictures
The photos are not illustrations of the story, but they show the landscape where the story takes place. They are Creative Commons (CC) photos from www.flickr.com. We respect the CC-rules, and only publish pictures when the photographer has given permission. For corrections and supplements, please contact us.

Copyright
The copyright of the stories belongs to Jan Paul Smit. You can copy, translate and distribute (parts of) it for free, but only:

1. when you mention A Peasant History as your source,
2. when you mail us a copy,
3. when you show a link to the concerning story, in case you publish on a website,
4. when you use the text for non-commercial purposes.

For the copyright of the pictures see the photo credit page of the concerning picture. Just click on the name of the photographer under the picture.

Contact
peasantautonomy@gmail.com
See also
About us
of
Peasant Autonomy - Archive
.