COMMENTS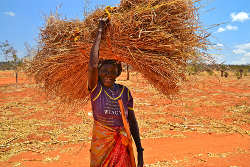 Tanzania.
Frans Zoer ~ Very warmly recommended! It is a great pleasure to browse this wide variety of short stories and gain some insight in the lives of people who face rather different and more difficult situations than most of us do. Enjoy!
Annabel Rodriguez ~ Your book is really good. How nice you share it with us. Thanks!! It is a reference to interesting and international peasant stories. You could stay reading for hours in front of the screen.
Annemarie ten Brink ~ You have written a great book.
Eric Krebbers ~ It looks really beautiful! Great combi of the life of the poor, and movies and novels.  What more do you want?
Jeroen Smit ~ Oh boy, what a job. What a donkey work. But the results make it well worth the effort.
Ellen de Waard ~ Review in
Doorbraak
~ Stories over the centuries and from all over the world. Stories of before our Common Era until now, described in novels and portrayed in movies. Two, three paragraphs of text about the life of peasants, fishermen and day labourers. In a small village, at the countryside, at the seaside or near a river. About poverty and wealth, oppression and resistance, colonialism and independence, tradition and emancipation. Stories about what makes happy, and what desperate, but above all what gives meaning and dignity to life. That's what this webbook is about.
(..) With its sharply chosen passages from stories and movies the reader gets an instant and empathetic insight into the lives of the people who take care of the food on our table. The photos accompanying the stories, also contribute to it.
(..) The webbook offers a world library of authors and directors who have something to say. Books of Pramoedya Ananta Toer, Pearl Buck, Buchi Emecheta, Cesare Pavese, Ben Traven, who still reads them? I devoured some of these books during my students days. Movies of renowned directors like Akira Kurosawa and Ousmane Sembène which are only known nowadays to the cinephile. Stories which are still worthwhile to know. And there is still so much more to discover. The webbook makes me hungry for more!
(..) The stories in the webbook are in Dutch and English. You can navigate yourself through the continents or by name of writer or director. Every story is accompanied by pictures of the landscape where the story takes place. By clicking on them they are enlarged, and then you see the real beauty of them.
Send your comments to: peasantautonomy@gmail.com
Go to:
= the
Homepage of 'A Peasant History'
,
= the
Table of contents
.