Story 123
Taurus Mountains, Turkey – around 1960 (3)
Nobody talks to the muhtar any more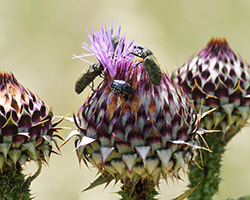 Thistle from the Taurus Mountains, Turkey.
Furious is muhtar (village head) Sefer. Nobody in the village talks to him any more not even his own wives and children. It is driving him crazy. Also in the town, everyone laughs at him, even to his face. He is put to shame before the whole world.

Almost like a nightmare, the muhtar remembers again and again where it began. Secretly, very secretly, he went to the police office in the town nearby. He painted Tașbașoğlu as black as he could: "That so called 'saint' is deceiving the villagers with his laying on of hands. That cannot exist any more in modern Turkey, in the time of space travel and atom bombs. On top of it, he enrages the peasants at the government and the administration."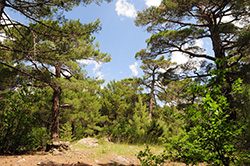 Forest at the Taurus Mountains, Turkey.
Two gendarmes came to arrest Tașbaș. The villagers stayed around silently. The atmosphere was highly explosive. Any moment they could jump on the gendarmes all together, whether they had guns or not.
Tașbaș stayed there with his head bent. Never had he wanted to be a saint. The villagers had branded him a saint, because they didn't see a way out of their poverty and because he already criticized the corrupt muhtar overtly for years.
When the gendarmes brought Tașbaș away, he turned around at the village border. Now he stood upright and confident. All the villagers stood with him in a circle. He rested his eye on each one of them one by one. Calmly he said, "You will not hurt the muhtar in any way although according to the four holy books, he deserves to be killed. But you will never speak a word to him. Not one of you. Not a single word!"

The muhtar groans. This is worse than being killed.
_______________________
Source
The Turkish author Yașar Kemal describes in The Undying Grass (1968, part 3 of his Anatolian Trilogy) how poverty in a small village inflames violence. The despair and bitterness seek a way out.
Kemal portrays the beautiful nature in the mountains and makes us feel the ruthless heat of the plain, where the villagers pick cotton for a few months a year.
Go to:
= part 1:
The sly muhtar - Taurus Mountains, Turkey – around 1960 (1)
, story 121.
= part 2:
The saint - Taurus Mountains, Turkey – around 1960 (2)
, story 122.
= the next page:
A griot never keeps his mouth shut - Santhiu-Niaye, West Senegal – 1965
, story 124
= the
Table of contents
, story 123.