Story 73
Mountain region in Peru – around 1922 (2)
Famine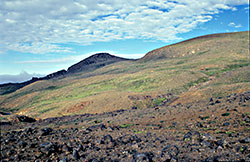 Peru.
Laboriously, little Damián trudges up the hill. He is only nine years old. Behind him Mañu plods along, a devoted sheepdog with black-brown fleecy fur and glazed eyes. Damián is hungry, and Mañu too. When Damian gets to the top of the hill, he puts his hands to his mouth, and shouts several times, "Mama, taita." Except for a faint echo, there is only silence. A few days ago Damián had roasted the last barley, and shared it with his good friend Mañu. Mama had told him to wait for taita, daddy. But he never turned up. She told him that she would return soon with food. But if it took too long, and the food was all gone, he should go to grandpa Simón. That's why he left home this morning, together with Mañu.

A terrible famine has swept the land. Almost no rain has fallen for the past two years. Martina, the mother of Damián, is on her own. Her husband Mateo was captured by soldiers from the city as a recruit. When there was almost no food any more, Martina had slaughtered one of the sheep, and after that, another, and another. When they had eaten the last sheep, she went to the father of Mateo. Perhaps, he would have something to eat. She could have taken Damián along with her, but he should wait for Mateo, in case he got out of the service. If he didn't find anyone at home, he could be lost for ever.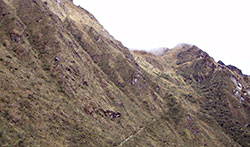 Peru.
Stumbling, Damián walks on the path. He has to cross over three mountains. When he is tired, he sits down for a short time. Mañu licks his hand, to give him courage. Then, they move on. In the afternoon Damián sits down on a rock under a leafless tree. Something just collapses inside him. He slumps down. Mañu pushes his muzzle against him. Softly, he whimpers. Damián doesn't open his eyes any more.
_______________________
Source
The book The hungry dogs (1939) from the Peruvian writer Ciro Alegría tells about the peasant life in the Andes Mountains.
Go to:
= part 1:
Shadow-puma - mountain region in Peru – around 1920 (1)
, story 70.
= the next page:
Black bombs - Anatolia, Turkey – 1922
, story 74.
= the
Table of contents
, story 73.