Story 72
A remote farm in the marshlands of Iceland – 1922 (3)
Rich for a few years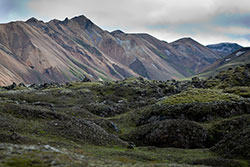 Iceland.
Not once does Bjartur of Summerhouses look back. He walks with his old Blaze on the reins onto the big new road, in the direction of the mountains, which loom blue in the morning mist. Twenty-three years he has lived here, and seen both prosperity and misery. But he doesn't look back once. Last week his land was sold by public auction, together with his stables, because he couldn't pay his loans. Jón the Bailiff, the big landowner of the Rauðsmýri estate, has bought the land of Bjartur with the marshes, the pastures, and the stables.

Bjartur had never had debts. He carefully saved his money, and spent it prudently to expand his farm with a shed here, and a stable there. And suddenly there was prosperity, wealth. Far-away warmongering countries were at one another's throat, and a brutal war broke out in which millions of people were killed. The prices of meat and wool boomed, and suddenly poor Iceland was rich, and the peasants became well-to-do.
The government built a big road next to Bjartur's farm. Banks were competing to pass loans off on the peasants. Clever agents of builders visited the farms to persuade the ever-frugal peasants to build a real concrete house this time. Politicians promised all sort of subsidies to farmers to expand and modernise.
Long ago, when his daughter Sola, his favourite child – 'the flower of my life' as Bjartur called her – was very sad about their poverty, he had promised her to build 'one day' a splendid house, nicer than that of Jón the Bailiff. Now, he saw his chance. He didn't understand much about the different loans with all their conditions, but the livestock prices were good, so it would be all right.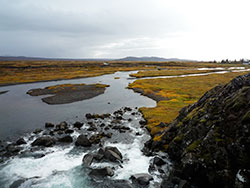 Iceland.
The dream of prosperity went on for six years, then the prices collapsed, and one peasant after another went bankrupt. Bjartur's aged mother-in-law had still a small piece of land in Grithut, a very remote hamlet. There, he has again built a sod hut, a small farm, with a stable downstairs for his animals, and upstairs under the sloped roof a living-room.
Bjartur walks with old Blaze. In a sedan-chair at one side sits his old mother-in-law, and on the other side the two little children of Sola, his beloved daughter, for whom he would sacrifice anything. Bjartur doesn't look back, not once. In Grithut he will go on with his sheep.
_______________________
Source
Independent People (1934) by the Icelandic writer Halldór Laxness is a monumental novel about small sheep farmers: powerful and moving.
Go to:
= part 1:
The reindeer - a remote farm in the marshlands of Iceland – 1899 (1)
, story 32.
= part 2:
Independent after thirty years - a remote farm in the marshlands of Iceland – 1911 (2)
, story 54.
= the next page:
Famine - mountain region in Peru – around 1922 (2)
, story 73.
= the
Table of contents
, story 72.