Story 113
Refugee camp in Jenin, Palestine – 1953
The olives are ripe
Palestine.
"How long have we already been living here, how long have I been missing my dear Ismael," Dalia asks herself. Her gaze is fixed. She will never forget that morning in July 1948. Zionists had bombed their village Ein Hod. She had lost almost her whole family. Afterwards, heavily armed soldiers came to lead away the survivors. In the chaos of that day, she lost her baby Ismael. She never saw him again. Since that day she hardly ever laughs. "Oh, he would have been five years old now. Would he still be alive?"

Dalia is a Bedouin. She is from a poor farm labourer's family. During the terror of the Zionist attack, poor and rich farmers, farm labourers, and owners of big olive orchards were driven together to Jenin, where a tent camp came into being. Later on the tents were replaced one by one by little mud houses.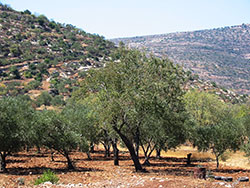 Palestine.
"My daughter, I have to go", Dalia hears a familiar voice saying. It is her father-in-law Yehya. She is surprised when she sees him in the best clothes he still has, impeccably shaved, his moustache points nicely curled up. Dalia looks at him inquiringly. "I cannot go on sitting here any more, I have to go to our village, the olives are ripe." "Don't do it, father," Dalia cries out, "the soldiers will kill you." But nobody can stop Yehya.

Everyone in the refugee camp fears the worst. Sixteen days later Yehya returns. Now he looks like a beggar. His clothes are muddy, and he has scratches everywhere. But he is beaming. He has olives with him, and figs, and citrons. In the evening there is a party. People laugh and sing, cry and dance, and everyone tastes the olives, one by one, as if it is the most precious food on earth. Yehya tells about his journey in great colour and detail. For a while, Dalia can forget her sorrow.
_______________________
Source
The book Mornings in Jenin (2006) from the American-Palestinian writer Susan Abulhawab tells about Palestinian villagers who are expelled from from their land, and have to survive in a refugee camp.
Go to:
= the next page:
The bride price - a village in South-east Nigeria – 1953
, story 114.
= the
Table of contents
, story 113.