Story 112
A fishing village on the coast of Cuba – 1951
The old fisherman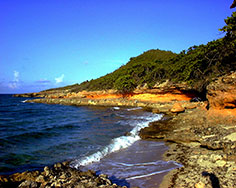 Cuba.
Quietly the boy opens the door of the hut. He almost can't believe his eyes. On the bed lies 'the old man'. Quickly he walks toward the man, and bends down near his head. Thankfully, he is still breathing. Then, he sees the hands. It brings tears to his eyes. They are completely ripped open. It must have been an awful struggle. "I'll be right back," he whispers. In the cafe he gets a pot of hot coffee with a lot of milk and sugar.

It has been anxious days for Manolin, the boy. He is ten years old, and has an earnest face with dark, questioning eyes. Many times he has gone fishing with Santiago – as the old fisherman is actually named – on his small boat. But his parents have put him on another boat, because Santiago hadn't caught any fish for a long time. For months he hadn't had any luck. Every evening Manolin comes to visit the old one in his hut, because he has grown attached to him.
Santiago had gone fishing alone. "Once I will be lucky," he had said to the boy. "And then, I'll make sure to be prepared for anything. As a fisherman you always have to be alert, that's what really counts." One night the old one hadn't returned with his little boat. Two nights, three nights. The coast guard had searched with boats and air-palplanes. Manolin had been desperate.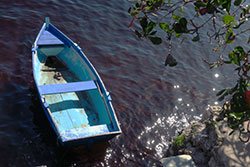 Cuba.
Manolin sits at the bedside of the old one. When he opens his eyes, Manolin pours him a cup of coffee. "Please, drink a bit, it will do you good, and then get some more sleep." When the old one is well rested, and has eaten something, he tells the whole story. That finally he had gotten a bite. That a huge animal was on the hook, which dragged the boat along over the ocean. For days. When the animal was exhausted from dragging and hunger, it finally came to the surface. It turned out to be a splendid swordfish. It had been a terrible fight, but at long last he managed to plunge his harpoon through the heart of the fish.

"But then, my son, I had to return. I was far from the coast. I was alone. I tied the fish to the side of the boat. But you see where this is going, soon sharks came at it. I still could kill a few of them. But finally they succeeded in devouring my beautiful swordfish. I thought I would be rich, but I was too far from the coast. I am an old fool."
"You are not," the boy answers, "you all alone defeated that swordfish. I have seen how big he is, because his carcass is still attached to your boat. I will start fishing again with you. Whether my parents like it or not. Then there will be two of us. I have got a lot to learn."
_______________________
Source
The old man and the sea (1952) is a splendid short novel of the American writer Ernest Hemingway about the life of a poor fisherman.
Go to:
= the next page:
The olives are ripe - refugee camp in Jenin, Palestine – 1953
, story 113.
= the
Table of contents
, story 112.