Story 114
A village in South-east Nigeria – 1953
The bride price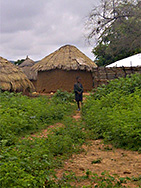 Nigeria.
When Ezekiel Odia suddenly died, Ma Blackie, his widow, didn't know what to do. In the city of Lagos, everything was expensive. Without the income of her husband, it was impossible for her and her two children to survive. She had no choice but to go back to Ibuza on the west bank of the Niger river to the village where she and Ezekiel were raised. There, she could move in with Okonkwo, her husband's oldest brother.
For Nna-nndo and Aku-nna, Ma Blackie's son and daughter, the transition from the big city to the peasant village was huge. Shortly after they moved, Okonkwo married Ma Blackie, making her his fourth wife, which made him the legal father of Nna-nndo and Aku-nna. With this new arrangement, they had to resign themselves to the rules of this traditional, old man.
Aku-nna quickly became part of a group of girls of her age, but she often felt alone. She was not only missing her father, but her mother now had little time for her. She had become entirely occupied by the big household of her new husband. Aku-nna's friends were nice, but all the girls' habits were so different here. And she was not as brave and strong as these village girls, who had assisted in the fieldwork since childhood.
Moreover, she was thirteen years old, would likely start menstruate soon, and then Okonkwo would marry her off. Her friends continuously chattered about boyfriends, family heads who had proposed marriage, and their upcoming weddings.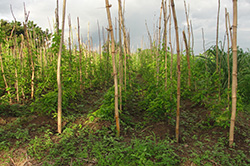 Yam field, Nigeria.
Aku-nna didn't want to think about marrying one of the rough village boys or becoming the youngest wife of an older farmer who already had a family. She yearned to become a teacher and marry a modern man.
Fortunately, her school teacher paid a lot of attention to her. Chike Ofulue was a handsome, friendly, young man, and soon they fell madly in love. However, Chike's family were oshus, formerly slaves. Aku-nna knew that the last thing a free man like Okonkwo would do is marry his daughter to a slave-family, how much the Ofulue family would be willing to pay as a bride price.
After the British abolished slavery, many families had sent their slaves to the missionaries. These former slaves were welcomed and educated. They went on to become the teachers, lawyers, and engineers of modern Nigeria, a country which would soon become independent. Chike's father had been headmaster for many years and was considered a well-to-do man as a result.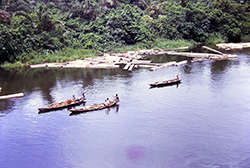 Niger.
Ma Blackie warned her daughter sternly not to go too far with Chike no matter how nice he was. "Don't bring shame upon me!" she shouted once threateningly.
However, every week Aku-nna went to the market with a bunch of bananas on her head to 'sell'. On the way, she would stop at a bush near the Niger and meet her great love. She would throw her bananas in the river, and Chike would give her money to take home for their sale. For hours, they would sit together in the shadow near the river, out of sight from any passers-by. They talked about everything but could also sit together silently. Other times, they sang songs. The hours that passed when they were together were lovely.

"Do you think your father will manage to arrange our marriage with such an old-fashioned man like Okonkwo?" Aku-nna would ask. Chike reassured Aku-nna, "Of course. My father will offer him such a high bride price that your father will not say 'no.' You surely know how eager he is to get the money." Then, they would go on dreaming about their future life together.
_______________________
Source
In the book The bride price (1976), the Nigerian writer Buchi Emecheta describes the life in a small village overhauled by the new times. She pays special attention to the difficult position of women in this time of transition.
Go to:
= the next page:
The sea god favours them - a small Japanese island – 1954
, story 115.
= the
Table of contents
, story 114.