Story 18
Queensland, North Australia – about 1860
Black or white?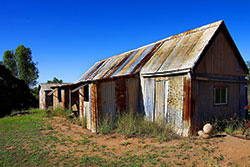 Queensland.
Jock McIvor, a robust farmer with a stubbly beard and dark brown hair mixed already with some grey, sits with his elbows on the table, both his fists against his cheeks. He stares ahead with unseeing eyes. It is always difficult for him to get going, but today more than usual. He didn't sleep well, and that's understandable. Yesterday morning, when they were walking to the pasture to milk the cows, his eldest son who was walking ahead of them suddenly ran back to him, "Daddy, dad, come look, come look." He couldn't say any more, he shook like a straw. Jock quickly followed after him, till he saw the three geese. Beautiful white animals, but now with big red spots under their heads. Someone had slashed their throats.

About ten years ago Jock and his wife Ellen migrated from Scotland to the north of Australia. After a few tough years they finally obtained a piece of land allotted by the government, and they started their own farm. It is hard work, and the climate is difficult: blazing hot summers and, time and again, forest fires. Slowly but surely it's becoming something. They live in a remote corner of the country, but they have neighbours with whom they get along very well. Or rather, got along very well.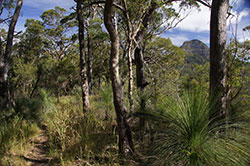 Queensland.
About a year ago a small, dark man with straw-yellow hair came walking out of the bush. The children of Jock and Ellen, who by chance were playing there, took him to the farm. The man turned out to be named Gemmy, and spoke hesitantly a few words of English.

Gemmy was around thirty years old. As a thirteen-year-old child he was put overboard from the ship where he was galley boy. He was gravely ill, and that's why they put him on a raft. Days later he washed ashore on the beach of Australia, where Aboriginals found him. They gave him water and something to eat. Gemmy lived sixteen years with them, and became one of them. Until he heard about white phantoms who had settled on the land. He wanted to see them.

Jock and Ellen took Gemmy in with their family. After all he was an Englishman, and he was in a bad way. But the neighbours didn't like him – for them, he was a black. It could well be that he was a spy, and that he would tell everything to his black friends, who perhaps came to visit him in the night. And that these would one day suddenly attack them, and kill them with their spears.
"Complete nonsense," Jock said, "and for that matter, he is not a black, but an Englishman and a poor wretch who needs help." But the neighbours were not open to reason. You could never trust a black ... And so, the atmosphere deteriorated. The children were harassed at school, Gemmy was punched, and Ellen got 'well-intentioned' warnings from the neighbour women.

When Jock goes out after breakfast, he mutters to himself, "I won't let them intimidate me, Gemmy will stay with us, and who dares to touch him will have to deal with me." But he can't get the image of the geese out of his mind, lying on the path, their heads askew, and with a strange red collar.
_______________________
Source
Remembering Babylon (1993) is an intriguing novel from the Australian writer David Malouf about misunderstanding and mistrust.
Go to:
= the next page:
'He is not your enemy' - a village in Liberia – around 1860 (1)
, story 19.
= the
Table of contents
, story 18.