Story 19
A village in Liberia – around 1860 (1)
'He is not your enemy'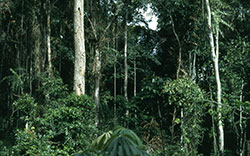 Liberia.
A group of boys of about twelve years old walk to the hut of their friend Halay, who is eating together with his parents. His father says, "Hey boys, do you know what Halay just said? That he will chew up all of you, and that he will throw three of you to the ground at the same time." Halay looks at his father anxiously. He wants to cry, I have never said it. But his father looks sternly at him, and Halay swallows his words. "Well, let him come with us, and we will see who will be knocked down," says the toughest of the group. A few others snicker. The father nods to Halay, and almost imperceptibly blinks his eyes at him. Halay understands the silent signal, and tries to stand up as bravely as possible.

For the last few months, Halay's father has taken him every time along with him into the forest to teach him how to fight. Wrestling, throwing and receiving punches, yelling to scare the enemy, his father has taught him everything. Now the time has come to put it into practice.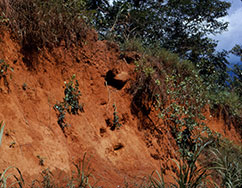 Liberia.
Together the boys walk to a dusty place, in the middle of the village. There is a group of girls, and when they realise that there will be a fight, they immediately start singing 'fight songs'. Soon the fight has begun. Halay hits the dirt several times. He could almost cry. One boy is much stronger than he, and another is more limber and quick. When he quickly rubs his face, to keep from crying, the girls laugh at him. Sita, the most beautiful girl of the group, shouts, "Do I see a little tear, my hero?"

Then, Halay remembers how his father has taught him how to yell, and he rushes at the next boy with a lion's roar. The boy is startled by it, and Halay makes use of the moment to grab him by his waist, to swing him up and throw him on the ground. Then, he sits down across him and thrashes him on his shoulders. When the boy begs for mercy, Halay, as heated as he is, pushes his face to the ground and rubs sand in it.

"Let that boy go," the girls shout, "you don't treat a friend like that. He is not your enemy." When Halay has calmed down, he gets up and beats the dust from his arms and legs, and stealthily looks at Sita. She brusquely turns away her head. The boys laugh.
_______________________
Source
The novel Land of My Fathers (1999) from the Liberian-Dutch author Vamba Sherif tells the history of Liberia, the country that was founded by black Americans, former slaves. It describes the tensions between the colonists and the indigenous tribes.
Go to:
= part 2:
There is war in the air - a village in Liberia – around 1890 (2)
, story 30.
= the next page:
Bison hunting - Prairie in Colorado, United States – 1863 (1)
, story 20.
= the
Table of contents
, story 19.