Story 17
South African villages – nineteenth century
Praise poets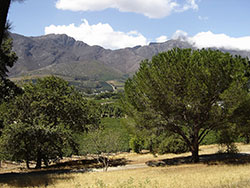 South Africa.
Each people in South Africa has its own 'praise songs', in which village poets sing the praises of their own heroes. The legendary conqueror king Shaka (ca. 1787-1828), who forged the insignificant Zulu group into a widely feared and well respected people, is sung of in terms like leopard, lion and elephant, the one who is as great as the mountains that surround Zulu land, the man who lives in great wrath, the ardent fire that scorches the tall grasses, and the great, ruthless persecutor.
Nevertheless, the praise singer does not shy away from calling his hero a cruel man, who will fall prey to the revenge which he has provoked himself.

The master-strategist Sotho king Moshoeshoe (ca. 1786-1870) is celebrated in songs as the great connector, the peacemaker who averts wars, and the cave of refuge for the poor and the kings.
The praise poet tells how the villagers came in droves to his funeral and washed his body with their tears. He continues: "You will bury his bones, but the king lives! The house of Moshoeshoe lives, the king isn't dead, he is sleeping."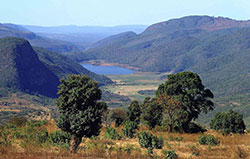 South Africa.
Occasionally nature is the subject of a praise song, like the Fundudzi lake, which the praise poet describes as the incredible wealth of the Venda nation, where you can catch fish with a grass basket, brimfull, and where the birds fly swiftly over the sparkling water.
The Fundudzi lake is inhabited by white crocodiles and a mythical giant snake, which brings prosperity. The lake is given the finest sorghum beer as an offering, and underwater drums make fairy-like tones. "The lake is my mother", confesses the praise poet, "and I am her creation."
_______________________
Source
In the beautiful book With words as with candles (2002), the South African author Antjie Krog gives an overview of the finest poems of the different peoples of her country.
Go to:
= the next page:
Black or white? - Queensland, North Australia – about 1860
, story 18.
= the
Table of contents
, story 17.