Story 105
A village in Western Africa – 1946
The wizard and the prince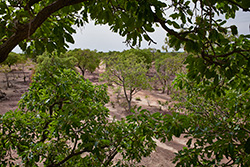 Western Africa.
It was night, but fortunately the moon was shining. Salimata ran through the forest avoiding snakes and scratching herself on thorn bushes. She waded through streams and ran hills up and down. Meanwhile, she had Fama in her mind all the time. When she was with Fama, she would be safe.
She was soaking wet from sweating and sat down for a while with her back against a rock. Did she hear something in the jungle? Was Tiémoko following her? Was Tiémoko coming after her? Quickly, she stood up and ran, ran, while her thoughts went to Fama again.

A few years ago Salimata was cut like all the girls in her village. It had gone wrong with her. When she wanted to get up after the cutting and start singing like all the other girls, she instead fainted. When she woke up, an old woman had taken her on her back and had brought her to the wizard Tiécoura. She had lost a lot of blood. With his fetishes, spells, and magic medicines, the wizard would drive away the evil and jealous ghost who was targeting her.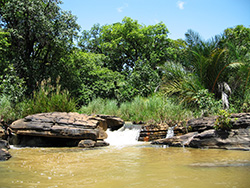 Western Africa.
In the night Tiécoura had raped her. When she had cried out in pain, she had seen a ghost slip away through the door. Again, she lost blood, a lot of blood. 'It is the same evil ghost who has attacked you,' the women of the village had said. But Salimata was in a doubt. Ever since then, she was terrified of every man who resembled Tiécoura in any way.
When she was married off to Tiémoko, she cried on the wedding night. He smelled of the wizard, and Salimata couldn't calm her fear. Tiémoko left her because he saw she was possessed by an evil ghost. He locked her up, but she managed to escape and run away.

Once, when she was still a young girl, she had seen Fama dancing at a party. He was the tallest one of all the boys. He was a real prince in his appearance, manner of speaking, and way of gesturing. She fell in love with him immediately. He thought her 'the most beautiful thing he had ever seen in the jungle and the villages.' The memory of this dance and of Fama had given her strength to overcome all the difficulties she had experienced, as young as she was. Now also, she ran and went on running with Fama in her mind. With Fama, she would be safe. With Fama, she would be happy.
_______________________
Source
In his book The Suns of Independence (1968), the Ivorian author Ahmadou Kourouma describes the fall of a Western African tribal leader. In a few passages, he tells about the life of poor peasants. Kourouma writes very vividly and doesn't mince his words.
Go to:
= the next page:
Village schoolteacher - a village in Anatolia, Turkey – 1948 (1)
, story 106.
= the
Table of contents
, story 105.