Story 106
A village in Anatolia, Turkey – 1948 (1)
Village schoolteacher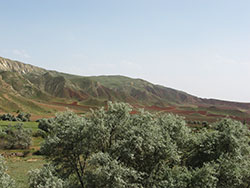 Anatolia.
"Unbelievable! I am such a lucky fellow that I had the chance to get more education than only a few years of village school," Mahmut Makal contemplates. He is from a peasant family. After the village school he was allowed to attend a 'Village Institute', a sort of high school, especially for village children. For five years he learned all sort of practical things there. For the first time he came into contact with newspapers and magazines. He was crazy about them. His school friends and teachers laughed about it, but he read anything he could get a hold of. "A world opened up to me," he muses. "I read about so many things that I never had heard about in my village."

After his schooling Makal is appointed teacher in a village not far from the village where he grew up. "Goodness, it has not been easy. At first most villagers didn't like me, because I was such a 'modern' teacher." Until then there had been only a Koranic school, where the children had to learn Koran verses by heart and to write Arabic.
The villagers still regard the new European script, which Atatürk had introduced to modernise Turkey, as the script of the 'infidels'. "I feel so often that I am a lonely fighter for the revolution of Atatürk."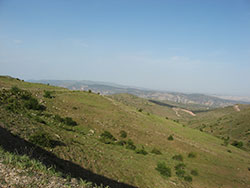 Anatolia.
What moves Makal most is the dire poverty in the village, particularly in the years with not much rain, which causes a famine. "Unbelievable that the government hardly helps us. We are left to our own resources."

What enables Makal to keep going is his urge to write. For a national magazine he writes article after article about the situations that he experiences. "All those people in Istanbul and Ankara have no idea of our poverty. But they need to know how all these people in all these villages suffer. Help has to come to modernise the villages, and to wipe out the poverty."
_______________________
Source
The book A village in Anatolia (1950-52), written by the Turkish author Mahmut Makal, describes vividly and passionately the peasant life in a very poor region. Makal knows what he talks about. He himself was brought up in such a poor village, teaches in a similar village, and thus has contact with dozens of peasant families.
Go to:
= part 2, the next page:
The bullock is worn out - a village in Anatolia, Turkey – 1948 (2)
, story 107.
= the
Table of contents
, story 106.