Story 162
A village in Anatolia, Turkey – 2015
Cured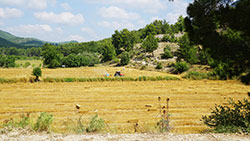 Anatolia.
Süleyman wipes the sweat off his face. He has worked the whole day in his field in the scorching sun. He looks at the familiar forested mountains under the clear, blue sky. He is reluctant to go home. "It is really not my fault, she herself asked it of me. What can I do?"

Half a year earlier, Saniye, the wife of Süleyman, had fallen gravely ill. She was spitting blood, and understood that she would die soon. Saniye urged Süleyman to marry Hayriye, to take her as his second wife. "Who will care for the baby, and the boys, when I am gone?" Süleyman would not hear of it. "Don't talk like that," he answered, "you should recover soon." But Saniye kept insisting. "Just do it, I am so anxious. Hayriye is a good woman, she loves children, and looks good."

The next day, they went together to the city by bus. At the hospital the doctor diagnosed tuberculosis, and decided on immediate hospitalization. Süleyman was at an utter loss with the crying baby, and the three boys, who were making mischief, while he worked in the field. Hayriye moved into the house soon after. She immediately loved the baby, and looked very well after the little farm.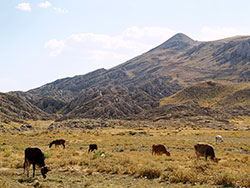 Anatolia.
Against all expectations Saniye finally regained her health, and came home. Everyone was overjoyed! Hayriye too. For Saniye it was difficult to accept that Süleyman slept one night with Hayriye and the next with her. And that the baby was now very attached to Hayriye and had to get used to her. In no time both women were consumed with jealousy. They quarrelled all day long. The atmosphere at home became unbearable.

While walking home, Süleyman suddenly smiled. He had an idea. "Tomorrow I will leave the field alone, and I'll go to the city. I will buy a nice present for Saniye as well as Hayriye. Then, they will understand that I love them both just as much."
_______________________
Source
The movie The Coop (2015), made by the Turkish director Ufuk Bayraktar, shows the life in a small, remote mountain village.
Go to:
= the next page:
'This is our land' - a village in the north of Russia – 2016
, story 163.
= the
Table of contents
, story 162.