Story 163
A village in the north of Russia – 2016
'This is our land'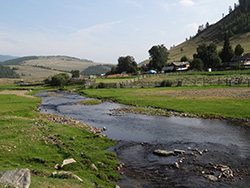 Northern Russia.
"People, listen to me," Aleksander Sergeevich starts his improvised speech at the potato field. About twenty villagers, older and younger ones, men and women, stand by the large field, numb with cold from the morning fog. In the background there is a row of trees in autumn colours. "The city needs this land for a construction project. We have to leave. There is nothing we can do about it. I will get a compensation, and you will get a share of it. We are allowed to go on with digging up potatoes till the first snow."
The peasants from the village look silently at Aleksander. Their small fields don't yield much, so they like to work from time to time at Aleksander's large farm to get some extra income. When they dig up potatoes they can take one bag of potatoes home for every ten bags they fill.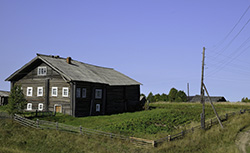 Northern Russia.
Finally one of the peasants manages to say "Goddammit!," and suddenly everyone starts yelling. An old farmer shouts: "A compensation sounds fine, but how will it be next year, and the year after that? We don't want compensation, we want work."

We won't leave, this is our land," shouts a young farmer with a short beard. "All of us are hunters, all of us have weapons. We won't let ourselves be driven away." "We'll go to the district," shouts an old woman, and her sister supports her. "We'll form three groups," shouts a robust middle-aged farmer. "One group goes on with digging up potatoes, the second protects the farm, and the third helps Aleksander with chores on the farm."

Aleksander is moved, when he sees how much the farm means to the village. He will not sell the land to the city, and also will not accept the compensation. He hopes it will not end in bloodshed.
_______________________
Source
The movie A long and happy life (2016) made by the Russian director Boris Chlebnikov portrays the lives of a small village on an ever-flowing river.
Go to:
= the next page:
Line of demarcation - Korea – 2016
, story 164.
= the
Table of contents
, story 163.