Story 83
Uttar Pradesh, India – 1930s (1)
Finally a cow!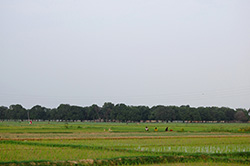 Uttar Pradesh, India.
Hori smiles. Finally, his dream will come true. And that of his wife Dhania. They will get a cow! How firm and strong their son Gobar will become when he can drink a cup of milk every day. How healthy and nice their daughters Rupa and Sona will grow up when they will drink milk day in day out.
Dhania had her doubts when Hori came home with the good news. "Will there be enough grass and rice straw?" she asked. "A cow has to eat well daily. That should not be at the expense of the two bullocks." But Hori explained her that it was impossible for him to let the opportunity slip away. Dhola, a farmer from a nearby village with a small herd, was in trouble. He had too little food for all his animals. He wanted to sell one for eighty rupees. A beautiful, young animal she is. After calving, she will give a lot of milk. And she is so meek that even a child can milk her.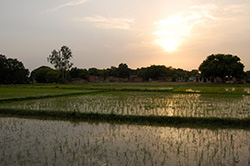 Uttar Pradesh, India.
But where could Hori find eighty rupees? They were already so deep in debt, and the interest is so high. Within a few years of a loan, they would have to repay double the sum and just a few years later, double the sum of that. But this time he has a wild card. Dhola lost his wife last year. He cannot bear the loneliness. He is desperately needs a new wife. It is not easy to find one when you are already a bit older.
Hori knows a woman in another village, a distant relative, who he can certainly persuade. He will arrange their marriage. When he told Dhola about it, he delighted promised him the young cow, "And bhai, brother, you can repay me when you have money available. There is no hurry. Soon we will be family."

Shortly the cow will come. How their prestige in the village will rise. He will her tie up in front of their house. "Look," the neighbours will say to each other, "Hori is doing quite well. He has a cow. And what a kind and beautiful one she is. She must have cost him quite a lot."
_______________________
Source
In Godaan, The Gift of the Cow (1936) the Indian author Munshi Premchand tells the ups and downs of a peasant family, how they struggle to survive and save the family's honour.
Go to:
= part 2, the next page:
The cow did bring along nothing but problems - Uttar Pradesh, India – 1930s (2)
, story 84.
= the
Table of contents
, story 83.