Story 82
A hamlet in the Zhejiang Province, China – about 1930
The mother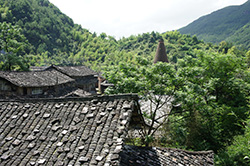 Zhejiang Province, China.
"Thank Heaven!" the old mother shouts when she sees her newborn grandchild, a healthy boy. She has waited so long and has despaired so often, but finally Heaven is favourable to her.

Then she sits down at the doorstep in the sun to warm her old bones. How old and weak she has become! How strong she once was. She used to work like a horse on her field. She had no choice because her man had gone away. Oh, he was such a handsome, cheerful man. Often he was singing and making people laugh. He was skilled with dice. But didn't like working on the land. One day he has left for the city and never sent news.

Her eldest son, while still a child, felt the man at home and assisted in the field. He sweated and toiled, so they could manage to carry on. Once her loneliness had been to much for her and she gave herself to the land-agent who had an eye to her. But after she became pregnant, he would have nothing to do with her.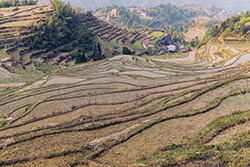 Zhejiang Province, China.
With difficulty she succeeded in hiding her pregnancy from the villagers. She took only her neighbour into her confidence. This woman bought strong herbs and with these, they disposed of the baby. She suffered hell, and afterwards she lost the strong, lively woman she once used to be. However she was spared the jokes in the village, the shame of an illegitimate child.

So much she has lost in her life. Her beloved daughter, for example. She became blind, as so many children in the village. It was difficult to find her a husband of a decent family. So she got a man from a poor, harsh peasant family in the mountains with only a small piece of infertile land. Her girl died after only a few months of marriage from a severe cold. Or had the family abused her, driven her to desperation?

Her youngest son. Of him she doesn't want to think at all any more. But she can't help it. The tears well up in her eyes. He was the apple of her eye. He resembled her husband just as cheerful, just as handsome. Her eldest son could not stand him because he withdrew from working in the field. But she loved him. He left for the city, but regularly he came back for a few days.
What he did in the city, she doesn't know exactly. Something with books although he never learned to read. When he came to the village, he went to the tea-house in the evening and spoke loudly and passionately about the injustice in the world. So many poor and so few rich. But that the great day will come that the land will be of everyone. Then, there will no longer be exploitation, poverty, or lazy big landowners in the city and land-agents who fleece you.

Not so long ago, he was locked up in jail in the city, with many of his friends. 'Communists' they are, it was said. But the old mother doesn't know what it means. They are the 'new robbers'. But her son has never stolen anything in his whole life! They want to 'steal the land', they said. But how can you steal land? Is it like a mat? Can you roll up and take it under your arm!
Again she has to weep when she remembers how he and his friends – there were also some girls with them, wild girls – marched to the scaffold. They were all handcuffed to each other with rope, and soldiers with guns watched them. While walking, they were singing loudly. For the last time she saw her beloved son.

How much she has lost in her life. But now she has a grandson. At last. She smiles. The family will continue to live, even when she is no longer there. The land will be ploughed and bear fruit, each year over.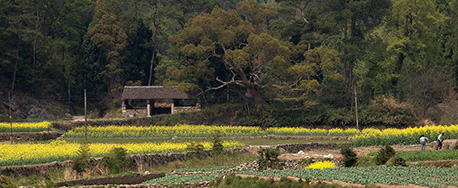 Zhejiang Province, China.
_______________________
Source
In The Mother (1931) the American author Pearl Buck describes the life of Chinese peasants. She focuses especially on women. She doesn't mention the names of the mother or the village like the story is about all Chinese peasant women from all small villages.


Go to:
= the next page: Finally a cow! - Uttar Pradesh, India – 1930s (1), story 83.
= the Table of contents, story 82.