Story 128
Gaomi District, Shandong Province, China – 1970 (2)
First a goddess, now a demon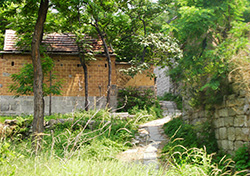 Shandong Province, China.
"Foot Bai, come out immediately," Gugu (aunty) shouted into the megaphone. "Don't be so childish. It is only a minor surgery. Chairman Mao has ordered us to limit the number of new children. If we don't, there will soon be a shortage of food and clothes for all the Chinese people, and schools will become overcrowded." Gugu was the chair of the population committee. She, along with two police officers, a few civil guards, and the chair of the women's committee, had gone to the farm of the Bai family to arrest Foot and bring him to the clinic for vasectomy.

Liver Bai, the eldest son of Foot who was at war with his father, was standing in front of the little farm. With his eyes and mouth he pointed to the pigsty. Gugu immediately walked over to it, opened the door and shouted, "Come out Foot Bai or I will drag you out of here by your ears." With cobwebs on his head and a shovel in hand, he emerged from the pigsty. "I will smash in the skull of anyone who touches me," he shouted. "Come on, big guy, so afraid of such a small cut," responded the chair of the women's committee. Foot Bai turned around furiously to face her. The two guards used this opportunity and jumped on him. A moment later, his wrists were bound.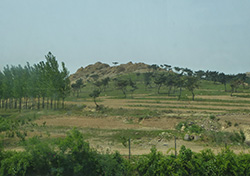 Shandong Province, China.
Not even a year later, the next phase of the population policy commenced. Immediately after women gave birth, Gugu, the midwife, inserted an IUD to prevent future pregnancy. Removing it was considered illegal. Any woman who became pregnant again had to undergo an abortion. Gugu arrested the pregnant women who did not come voluntarily to the abortion clinic. When women managed to escape her arrest, she chased them fanatically. As the people in Gaomi said: "First Gugu was a goddess; now she is a demon."
_______________________
Source
The novel Frog (2009) is written by the Chinese writer Mo Yan who tells about the peasants resisting the birth control policy of the Chinese government. The second part of the book shows how easily the new rich in the 1990s circumvent the rules.
Go to:
= part 1:
Aunty is a goddess - Gaomi District, Shandong Province, China – 1967 (1)
, story 126.
= the next page:
The investigation team - Bihar, India - 1970
, story 129.
= the
Table of contents
, story 128.