Story 129
Bihar, India - 1970
The investigation team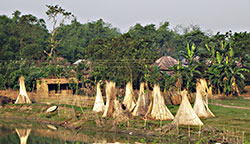 Bihar.
"Dear uncle Bono, finally we are together again," say the fingers of Douloti, "let the other ones chat, we are together." Silently, she massages the feet of Bono with such loving attention that her fingers transfer her feelings perfectly. "You are the only one who really can understand what I have suffered. Let the other ones chat."

- The government in Delhi needs to take measures by now to abolish debt slavery. Our investigation, our report will compel them to enforce it. Finally, there will be a good law.
- How long will it take, before the new law will be in place? And who will respect that law?
- First we need a good law, and then we will found an organisation of debt slave prostitutes. With that organisation we will mobilize the public opinion in order to force the government to uphold the law.
- In my opinion we should set all the brothels we see on fire. Then we are done with it.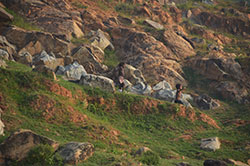 Bihar.
Douloti belongs to the Nagesia people. Her parents never wanted to sell her, but they were forced to. They couldn't prevent it. She is taken away to the city and ends up in a brothel, where she has already spent a few years as a kamiya, a debt slave prostitute.
Uncle Bono is from the same village. He also was a debt slave, but he ran away. He has become the jeep driver of the team that is documenting debt slavery. That is how he has arrived at the brothel where Douloti works.

Douloti massages the feet of Bono silently, and her fingers say: "Do you remember, uncle Bono, how I always was swinging in the aerial roots of the banyan tree of our village, when I was looking after the goats? Do you remember that time that I couldn't go to the festival in another village, because I had an ulcer on my leg? You took me there on your shoulders. Sometimes we heard you making a lot of noise in the night. You were beating your cooking pots to drive away a tiger. Do you remember, uncle Bono? Do you realize how much you mean to me? You are the only one who can understand me."
_______________________
Source
The book Imaginary Maps from the Indian author Mahasweta Devi portrays in three impressive stories the bitter life of the indigenous peoples of India.
Go to:
= the next page:
Progress - Northern Uganda – 1970 (2)
, story 130.
= the
Table of contents
, story 129.