Story 88
Mountain region in the north of Sweden – 1930s
'Our reindeer are your reindeer'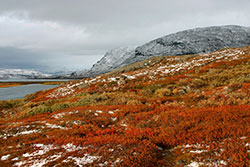 Sweden.
"Will she ever come back?" Njenna asks herself worriedly. She is sitting on the ground by her reindeer, which are grazing quietly around her. Njenna is a young Sami (Lapp), a nomad. "Why has she left us? It is so beautiful here with our mountains, the cold water, the endless sky. Here we have our herd, our family, our own tents with all we need. We have our stories and our yoiks, our traditional songs. We can express all our feelings in our yoiks." Then, Njenna starts singing about the departure of her older sister Elle-Marja.

For a few years Njenna has gone to a Lapp school, together with Elle-Marja. They hated to be there. The boys of the village where the school was located called them 'dirty Lapps'. At school the teacher slapped you when you spoke Sami; you had to speak Swedish. The children lived together at the boarding school, and they all missed their families enormously.
Elle-Marja was a bright student. She was the best one in the whole group. Once, when some visitors came from Uppsala, she was allowed to speak to the guests, of course in Swedish. She was ashamed to be a Sami, and wanted to become a teacher. She had to go to Uppsala and study, by whatever means. One day she walked away from the school, and boarded a train.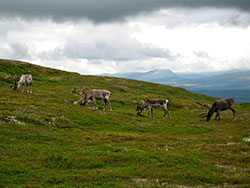 Sweden.
"Elle-Marja, my beloved sister, when will you return to us?" Njenna sings. "How can you live in Uppsala, without the reindeer, without family? Don't marry a Swede, then you will be lost to us forever. Stay with us, come back. Our tent is your tent, our reindeer are your reindeer."
_______________________
Source
The movie Sami Blood (2016) made by the Swedish director Amanda Kernell, who is a Sami herself, tells the story of a nomad girl, who flees from her people, her land, and her culture.
Go to:
= the next page:
Sciatàp - a village in Abruzzo, Southern Italy – 1935
, story 89.
= the
Table of contents
, story 88.