Story 85
California, United States – 1930s
Dreaming of a small farm of your own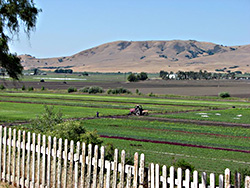 California, USA.
Lennie looks at George with pleading eyes: 'Please George, tell me again.'
- 'I did tell you yesterday, Lennie.'
- 'Please!'
- 'Okay. When we have saved enough money, we will buy our own small farm with a few acres of land. Not too much land. So we only have to work six, seven hours a day, and we don't have to toil eleven hours any longer. We will grow our own grain. We will have a kitchen garden with all the vegetables we like. We will have also a few fruit trees, with peaches, apples and cherries. We will keep a cow, a pig, and some chickens.'
- 'And rabbits,' Lennie interrupts him. 'I will take care of them. I will never forget to feed them.'
- 'Yes, also rabbits,' George confirms. 'We will have a small alfalfa field. You will go there with a bag, cut alfalfa, and bring it to the rabbits.'
- 'We will also have a stove, won't we?'
- 'Yes, a small round stove to burn wood or coal. When it rains, we will sit near the nice, warm stove.'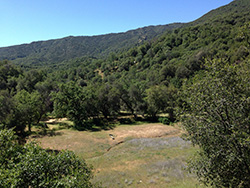 California, USA.
George Milton and Lennie Klein are two wandering farm labourers. Lennie is simple-minded but as strong as an ox. He can work for three. George has taken pity on him. Together, they wander from farm to farm. Here, they work a week; there, a month. Then, they go further: ploughing, sowing, reaping, threshing. But never for themselves. Always for others.
The work is hard. And the money they earn vanishes fast when George goes on a spree from time to time.
George knows an old couple with a small farm who wants to sell it for not too much money. He has firmly determined to save all their money from now on.

'You know, Lennie, these other farm workers are all by themselves. They are all alone. They go from one farm to another and get drunk because they have nobody. We have each other. We are a pair. If we start saving money now, soon we will have our own small farm. When there is a fair in the village, we will milk our cow, feed our chickens, and go there. We won't give a damn. We won't have to ask permission to anyone. We will just go.'
_______________________
Source
In the short story Of Mice and Men (1937) the American author John Steinbeck sketches the hard life of wandering farm workers. Everyone dreams of a small farm of his own.
Go to:
= the next page:
Crab hunt - Gaomi District, Shandong Province, China – 1934 (1)
, story 86.
= the
Table of contents
, story 85.