Story 67
Taurus Mountains, Turkey – around 1920
The good bandit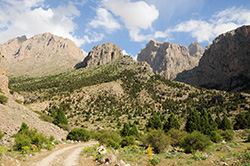 Taurus Mountains, Turkey.
There is a roll of drums and clarion-call – the farmers are dancing deliriously with joy. It is a big party in Değirmenoluk. Finally, the fields are again in the hands of the villagers, like in olden times. Nobody has to give half of his harvest to Abdi ağa (lord Abdi), the large landowner, any longer. He has fled to the city. So afraid he is for Little Memed, the big, fearless bandit.

Normally, the villagers are terrified of robber gangs who loot the villages. They are a nuisance in the entire Taurus area, and the government leaves them more or less undisturbed.
Little Memed is an other sort of bandit. He is born and bred in Değirmenoluk. Abdi ağa has treated him and his mother horribly. After a shooting with the ağa, Memed has fled to the mountains as young as he was. He has joined an infamous gang. Later on, he has set up his own gang with a few good bandits.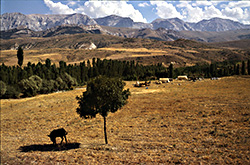 Taurus Mountains, Turkey.
Now Memed has come back to his village to kill the cruel ağa and to give back the land to the peasants. Until he is dead, he decides, he will stay with his mates in the village to protect it.
_______________________
Source
The Turkish author Yașar Kemal describes in Memed, My Hawk (1958) the life in a small village. Kemal builds on the old stories the villagers continue telling each other from generation to generation. He combines the heroic story with beautiful descriptions of nature.
Go to:
= the next page:
The high priest stands alone - South-east Nigeria – the 1920s
, story 68.
= the
Table of contents
, story 67.