Story 59
Romania – autumn 1917 (1)
Deserters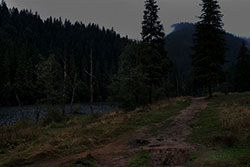 Romania.
It is late October, it is evening, and it is cold. Mishka Koshevoy lies together with some other Cossacks in a corner of a corn field. A small white cloud escapes from his mouth. He would love to light up a cigarette, but the sergeant has strictly forbidden smoking. The glowing red spots could betray them.

Mishka, a young farm hand with brown curls and red cheeks, is a Cossack from the Don Valley, in Southern Russia. At the start of the World War he was sent to the front to fight as a Russian soldier against the Germans and Austrians. After a short period of big attacks and counter attacks, the fighting has turned into a horrible, sustained trench warfare. Finally, Mishka's Cossack regiment has been pulled back a few dozen kilometres from the front to recover their breath. Now their mission is to catch deserters.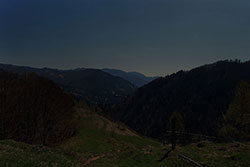 Romania.
Despite all of this, Mishka is usually in the mood for a funny story, but not tonight. He longs for his village. The war has lasted already so long, and so many comrades have already died. It seems as though it will never end. And, what is it for? What he wants more than anything is to run away, to desert, and to get to his village in the Don valley.
Then they hear a soft sound. The sergeant makes a motion with his arm to keep quiet. A group of men trudge along the path. When they are close to them, the sergeant leaps up and fires a shot into the air. "Halt," he shouts. It indeed turns out to be a group of deserters. They are a sight: hunched over like old men, their clothes worn out, their shoes in shreds, with filthy caps on their heads.

The sergeant wants to take the miserable group of soldiers to the military staff, where they will be punished, and then sent again to the front line. The demoralized men threaten with a hand grenade and with their rusty bayonets, and refuse to come along. Pathetically, they offer some money and a bottle of vodka.
Mishka can't endure it any longer, and whispers to the sergeant, "Why don't you let them go? After some time we will run away too. Why should we make trouble?" The sergeant looks at him, and sees that Mishka means it. He just lets them go. So many stories are being told about officers who are killed by their own men.
_______________________
Source
In his 1500 page, monumental novel And Quiet Flows the Don (1928-1940), the Russian author Mikhail Sholokhov describes the First World War through the eyes of peasant boys.
Go to:
= part 2:
A shepherd joins the Reds - Steppe in the Don Valley, Southern Russia – spring 1918 (2)
, story 61.
= part 3:
The civil war is still not over - a hamlet in the Don Valley, Southern Russia – summer 1920 (3)
, story 64.
= the next page:
Pioneer - a remote village in Norway – 1917
, story 60.
= the
Table of contents
, story 59.