Story 102
The Netherlands – 1945
Cheese sandwich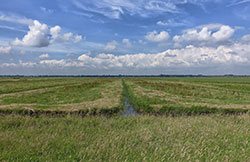 Netherlands.
"My goodness, how slowly this animal walks," Jan Tulp grumbles softly. "Well, in fact, it isn't her fault, she is also suffering from the war." A skinny horse pulls the flat cart, where Jan is seated. Next to him sits Michiel, a boy of twelve, who he just has picked up in Amsterdam. A blanket is spread over their laps, because it is quite cold. They drive at walking pace through a wide polder.

"Do you see that church, in the distance? That is our village. You will have a good time staying with us," Jan says to Michiel. But the boy doesn't answer. "Do you want a cheese sandwich?" The eyes of the boy light up. When he eagerly takes a bite of his sandwich, he tastes cheese for the first time in a long while, delicious cheese. "We will fatten you up, my boy," Jan says with a wink to the thin boy. "You will like the farm life. You may take care of Maya, our horse. She has been groomed every week, and she gets hay daily. You may give it to her, and in a short time you will be best friends." Maya tosses her head upwards, as if she hears they are talking about her.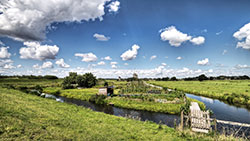 Netherlands.
The war is almost over. Everyone is waiting for the Allied Forces. In the cities of the western part of the Netherlands there is almost no food left. People are hungry. Everyone who has relatives or friends in the countryside tries to lodge his children there to gain strength. In the villages there is lack of everything too, but people still have something to eat there. Thank God.
_______________________
Source
In the book Stukjes en beetjes (Bits and pieces, 1965) the Dutch author Bernlef describes how villagers care for a city boy in the last year of the Second World War to protect him from hunger.
Go to:
= the next page:
Sheep thieves - Sardinia, Italy – 1945 (1)
, story 103.
= the
Table of contents
, story 102.