Story 62
Morelos, South Mexico – 1919
Zapata, the beloved peasant leader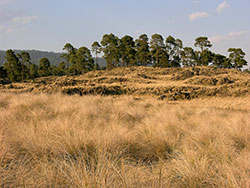 Morelos.
Five horsemen in uniform on brown horses ride into the plaza, the central square of the sleepy town. They look rough. The first rider has the body of a man on his horse in front of him. Some shabbily dressed Indian women stand by a flower stall, and a few men with big hats and the mud-stained white clothes of Indian peasants are in front of a pub. "The rurales" one of them hisses. Quickly everyone looks the other way, because one wrong glance in the direction of the brutal rural police, and they will hit you with their whip, or worse.
In the middle of the plaza the first rider dismounts, and throws the dead body on the ground. "There you have your 'hero' Zapata. With all your insolent heroes, it will go the same way." Nobody reacts. Only when the riders are gone do the Indian men and women walk towards the body. One woman from the flower stall brings a few bunches of flowers with her.

Lazaro, an older Indian man with a rugged white stubbly beard, examines the dead body carefully. It is covered with blood, and has dozens of gunshot wounds, also in the face. Everyone keeps silent. Then, Lazaro gets up and spits on the ground. "Nobody can fool me," he shouts, with a faint smile. "I've known him from the time he was a child, when we guarded the cornfields against the crows together. I was there during the first land occupation, with so many expeditions and battles. I know him through and through, and I tell you, this isn't Emiliano Zapata at all."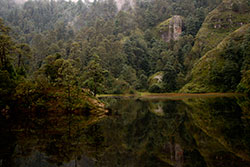 Morelos.
The other ones look at the old peasant questioningly, and then everybody starts telling about what they have experienced with their beloved, heroic leader. How they have struggled together for years against the large landowners, the rurales and the federal forces to get their land back. With varying degrees of success.
Finally, the federales have captured Zapata, and riddled him with bullets. But for the Indian peasants of Morelos, Zapata is not dead. That simply cannot be true. "I know where Zapata is," Lazaro says, "he is hiding out in the mountains. He is looking at how we can defend ourselves against the large landowners. When we really need it, he will help us. We can count on that."
_______________________
Source
The Hollywood action movie Viva Zapata! (1952) made by the American director Elia Kazan shows the life of the Mexican peasant leader Emiliano Zapata, and also how the Indian peasants want to do whatever it takes to regain their land from the big landowners. The impressive screenplay is by John Steinbeck.
Go to:
= the next page:
Gas masks - a small village in Wales, United Kingdom – 1919
, story 63.
= the
Table of contents
, story 62.