Story 155
A small nomad camp in Mali – 2012
Whiplashes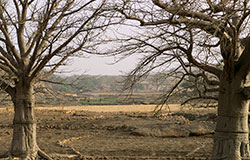 Mali.
Anxiously, the handsome young woman looks at her husband with her with soft brown eyes, "Kidane, I have to tell you something." Smiling, he answers, "I know already what you want to say. You want to leave here. But where will we go? Perhaps you are afraid?" "Of course, I am afraid," Satima says. "I don't like those guys. Almost everyone has left already. Let us follow them."

Satima and Kidane are Tuareg nomads with a small herd of cattle and some goats. Together with their twelve-year-old daughter Toya, they live in a tent in the desert near the town of Timbuktu. A few weeks ago some pickup trucks appeared with Islamic fighters, who occupied the town and introduced the sharia, the strict Islamic law. Since then Satima and Kidane hear the strangest stories. It is forbidden to play music, and if you are caught you get forty whiplashes in public. Playing football and smoking are not any longer allowed, and a girl may not phone a boyfriend. For everything you will be flogged.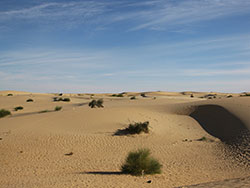 Mali.
- Satima, I am afraid too, but we have to be strong together. I am your husband, you have to support me.
- Every time when you are gone, that scary fellow with his gun comes by. Again yesterday, when I was washing my hair outside, in front of the tent. I should not do it in public, he said, it was contrary to the sharia.
- Approaching a married woman, while her husband is away, is perhaps not contrary to the sharia?
- I also said that, but he didn't answer me. In the market there are rumours going around that fighters have already taken several girls from their parents to marry them. The imam has condemned it publicly, but they don't care. Let's go away, before it is too late.

While Satima and Kidane lie and talk under the canopy of the tent, Toya milks the goats. After a while, she brings a bowl of milk. Inquiringly, she looks at her parents.
_______________________
Source
The splendid and at the same time terrifying movie Timbuktu (2014) from the Mauritanian director Abderrahmane Sissako shows how a handful of armed men intimidates a desert town.
Go to:
= the next page:
Paradise and hell - a hamlet in Colombia – 2014
, story 156.
= the
Table of contents
, story 155.