Story 118
A village in Cameroon – 1958 (1)
The basis of my life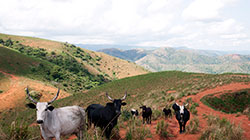 Cameroon.
The woman lays a colourful, thick notebook on the table and sits down with some difficulty. Her bones are aching. She has become old. She takes her ballpoint pen and opens the notebook. "My name is Halla," she writes down, "Halla Fitini, which means 'Little Halla'. I am named after my grandmother, 'Big Halla'." Then her mind starts wandering. She has experienced so many things in her life. The independence struggle, the brutalities of the French occupiers, the happiness of the new beginning, the terrible corruption which soon began. She had fled her home village because of her violent father, and found a job in a city as a singer, and later on as a theatre director. Now that she is old, it is time to write down her memories.

"My name is Halla, Halla Fitini. I was raised in a small, remote village, Massébè. There was no road, only a few footpaths to other villages. Around thirty families lived there.
I had such a wonderful childhood there, even though my father was not there most of the time and my mother often had left for her family. In fact I was brought up by Grandpa Helly, and Grandma, Big Halla. Grandpa took me with him to the forest to cut cane and bamboo, to collect medicinal plants, and to set snares. Or he showed me the cacao trees and coffee plants at his plantation. He also showed me how he made furniture and baskets and beautiful rattan wickerwork. In the evening he pointed out the constellations, and taught me their names.
Later on, because I was his favourite granddaughter, I was allowed to come along with him to the secret meetings of the Mbombock, where wise old men, whispering, transmitted ancient knowledge about life and the universe.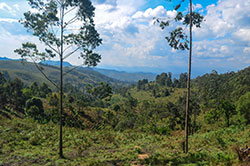 Cameroon.
Often I also went with my grandmother and my little sisters to work on the land. We left very early, when it was still a little dark. Grandma took some glowing embers with her, and the first thing we did when we arrived at the field was to make a little fire, because it was so cold in the early morning. We ate a bit, and then started working hard to get warm, and to keep the insects at bay. Grandma taught us songs which made the work easier, more pleasant. When it got hot, we picked some vegetables, pulled some tubers, and went home."

The old woman pushes the notebook away. All that attention of Grandpa Helly, and Grandma Big Halla, and all their stories and wise counsel, in fact formed the basis of my whole life. Until now it supports me.
_______________________
Source
The Cameroonian author Werewere Liking depicts in her novel La mémoire amputée (2004) the life of a village girl, who ends up in the city, always longing for her village.
Go to:
= part 2, the next page:
Revenge - a village in Cameroon – 1958 (2)
, story 119.
= the
Table of contents
, story 118.